Jennifer McInnis-Wharton is a sight to behold as she fearlessly pulls pots out of 1050 degree kiln and drops them into a pile of newsprint and sawdust, igniting the lot with the heat of the glowing ceramic. Equal parts brutal and dazzling, the process of Raku gifts her with marvels of metallic colour.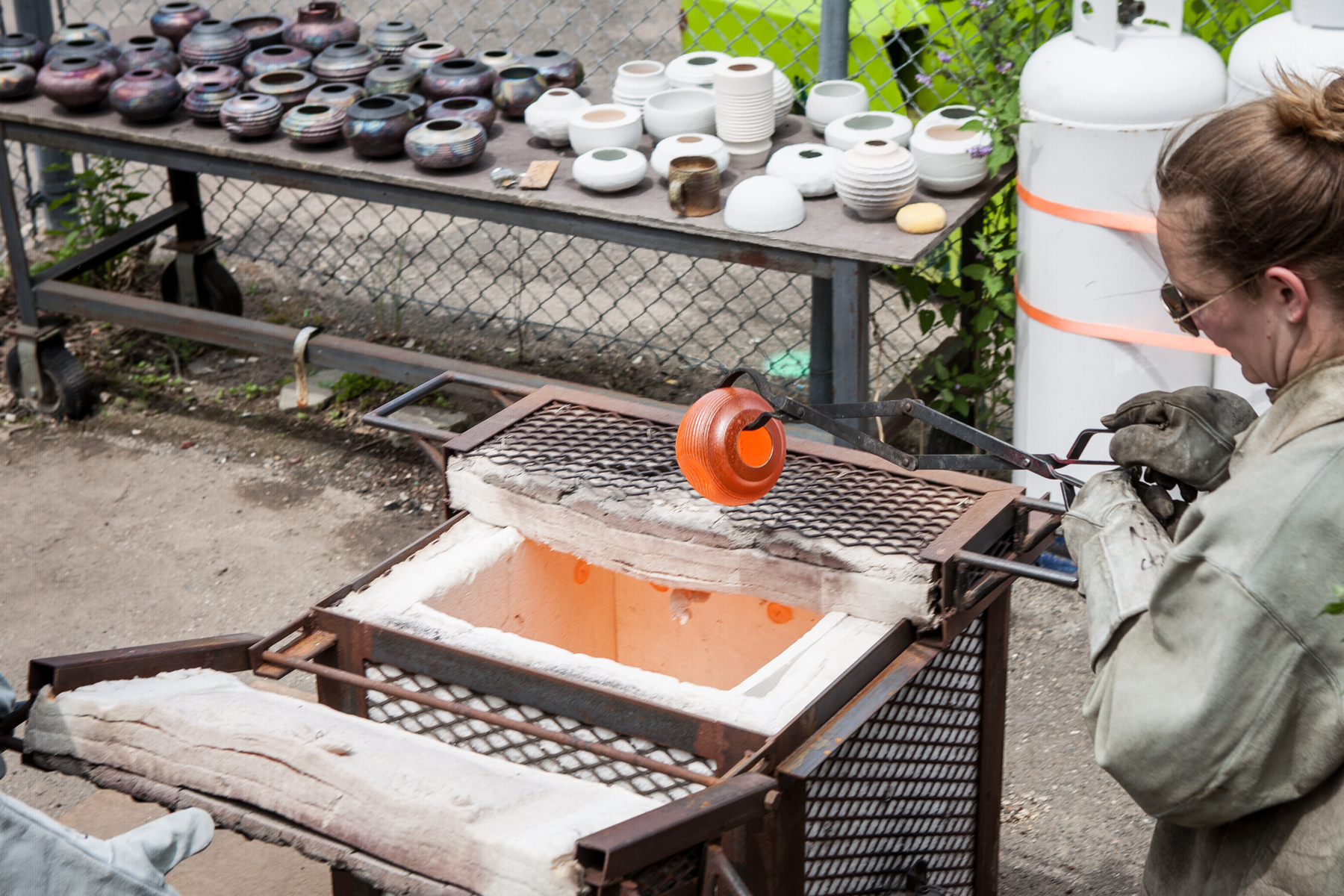 Above photos and cover photo by Bang-On Photography
Jennifer is back at her old stomping grounds for a two-day fling in the NBCCD 'Raku cage'. "Today is my favourite kind of day" she says. "It's firing day!" She wastes no time, bringing with her a collection of experimental pots that transform in the process from off-white to flame-licked copper rainbow. She has not been in the cage for two years, not since she graduated from the New Brunswick College of Craft & Design, first with a Diploma in Ceramics, then with a Certificate in Graduate Studies (now known as Advanced Studio Practice). This firing day is a sweet farewell before she goes off on a big new adventure.

Photo by Bang-On Photography
After the final exhibition for the Graduate Studies program, where Jennifer delighted visitors with her ceramic tree installation, and after that same installation was selected for the BMO 1st Art! Invitational Student Competition, she traveled home. Home, for Jennifer, is Fort Simpson, NT. Fort Simpson is Northern, it is remote, it is stunningly beautiful, and it is without access to the equipment and materials necessary to practice her pottery trade. This time, for Jennifer, was a moment to get back to her family. It is also reflective of what many graduates experience during the first months after they leave the walls of the College. It was a dark period in her creative timeline.

 
Installation at BMO 1st Art! Invitational (top) and Graduate Studies Exhibition (bottom)
Propelled by pent up artistic energy, Jennifer found her way to the relative comfort of Yellowknife. This place allowed her to pick up her craft anew. There, she lived alongside a beautiful trail that gave her access to natural colours and living textures:
"I love lichen, I love moss, I love things that grow and crawl. . . Sometimes, subliminally, you're taking inspiration from things and later you make the connection."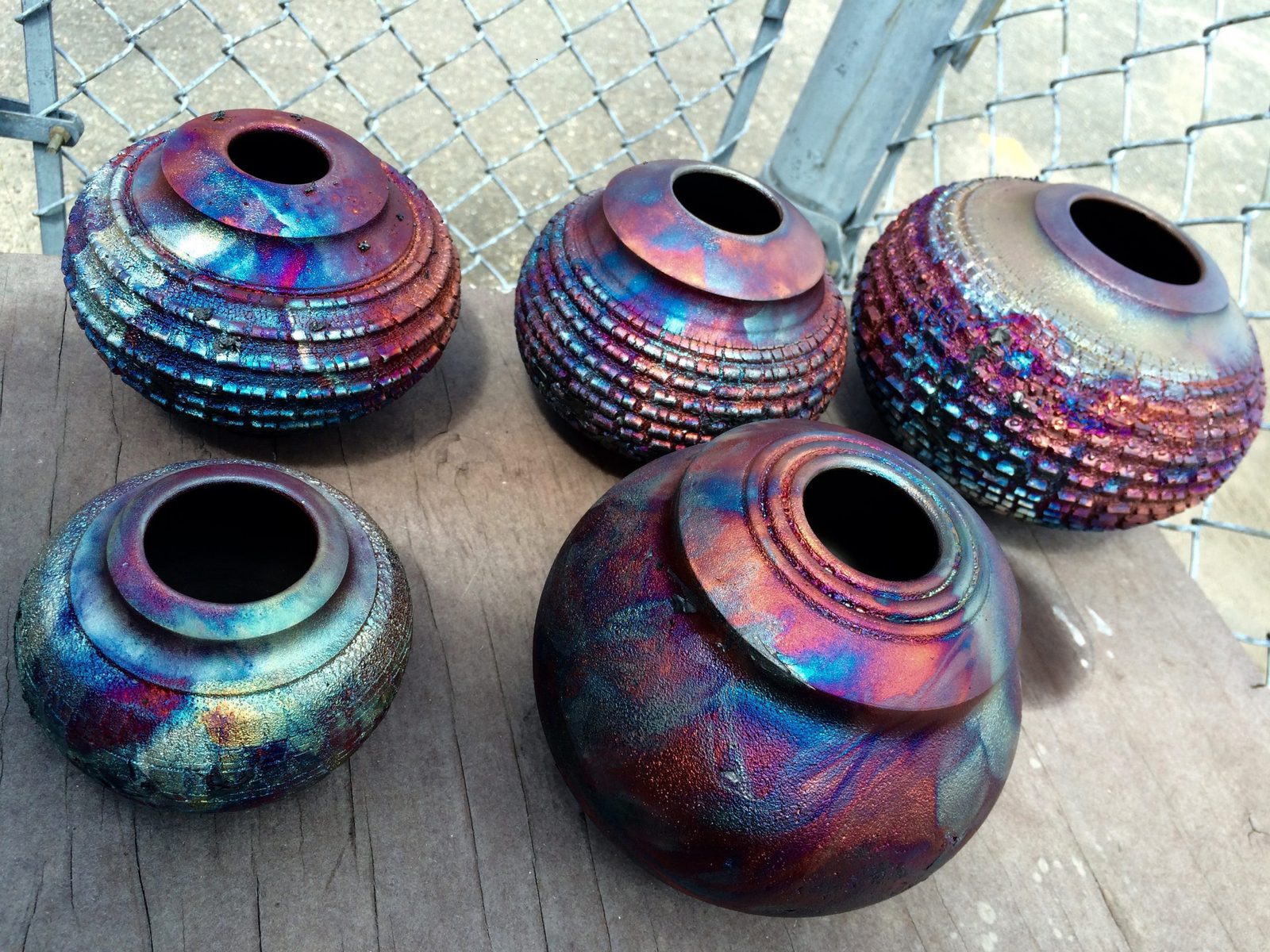 Still she pined for the community of craft professionals she left behind in Fredericton, and eventually planned a trip to reconnect. That is how she found herself back in the firing cage. No sooner had she arrived, than she found out she would have to cut her trip short. Even while Jennifer was struggling to access her creative impulse in Fort Simpson, she was still submitting applications far and wide:
"I've done a lot of pursuing things. I took what my instructors said to heart and just started applying for everything, even when I wasn't really sure I felt ready. With Craig last year [the Graduate Studies Coordinating Instructor] I set specifically my goals around learning more about arts administration, and increasing my networking abilities, and getting better at reaching out and talking to people, and getting better at applying for things."

From Jennifer's residency at The Fredericton Regional Museum
What came back from her submissions is a thrilling opportunity. Jennifer has been accepted to the renowned Banff Centre for Arts and Creativity for a year-long, expenses-paid Ceramics Studio Practicum:
"My primary job will be support for the artists-in-residence, such as assisting with processes and equipment, maintenance of studio spaces, and documenting them for video archives. Also, I will have the opportunity to attend presentations, workshops, and performances and to learn about equipment and processes within the other visual arts studios. I will be setting learning objectives with the guidance of my mentor and on most weeks I will have one day set aside to pursue my own projects and research (and keys to the palace to work as hard as I want on my own time!)"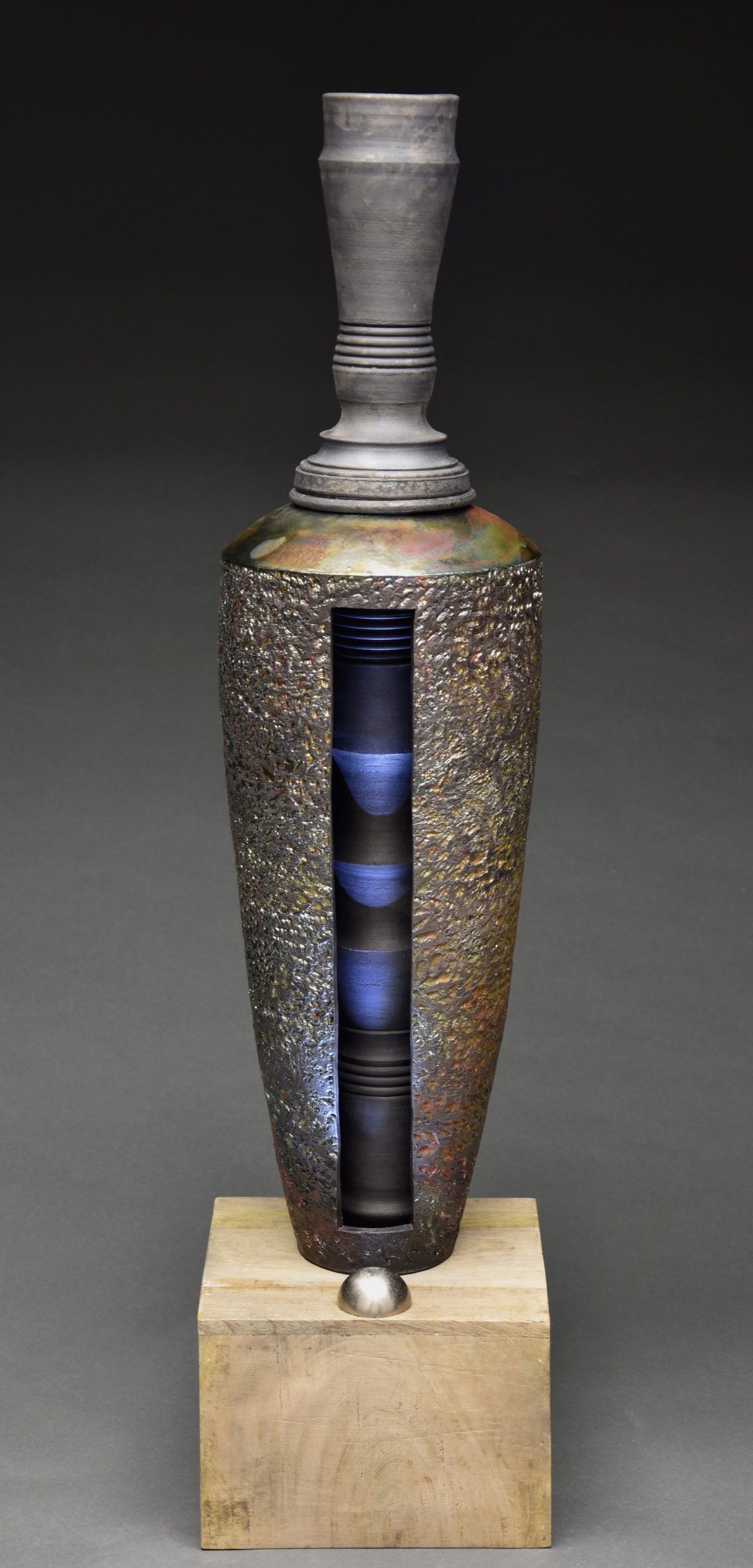 When graduates go out into the world, the challenges they face often inform the direction their practice will take. Many emerge with a sense of purpose and a desire to help others with their same sorts of struggles. Jennifer hopes to one day create a group studio space, perhaps in the Canadian North, to help other craftspeople find that sense of community she so missed when she left the College. This practicum is an opportunity to further those goals:
"I'm hoping to learn more about all aspects of operating a communal studio so that one day I will be able to establish a space where I facilitate the sense of community that I love so much – one where artists connect and ideas take on a life of their own through sharing processes and experiences. I want to bring people together."

Photo by Bang-On Photography
Words by Allison Green