Many people may recognize William Forrestall as an accomplished painter who is committed to a form of meditative realism and careful craftsmanship. His signature work consists of subtle egg tempera paintings of quiet classical still-life arrangements, images of everyday inanimate objects — gourds, fruit, coffee pots, bottles, lilies, chairs, and fragments of broken crockery, that appear frozen in time.
In stark contrast to the specialized status of his paintings as serious objects of aesthetic contemplation, are Forrestall's surprising home-built pedal- and electric-powered cars. Fusing do-it-yourself mechanical know-how with a creative use of salvaged materials, his whimsical vehicles are designed to function as machines that one can actually operate. In the world of fine art, they could be interpreted as a form of both kinetic assemblage sculpture and performance art linked to Dada and Pop Art. However, by virtue of their sheer playfulness and use by the artist for family recreation and community engagement, they confound traditional or easy classification and challenge elitist or narrow notions of what constitutes a work of art. For me personally, they conjure nostalgic childhood memories of building Go-Karts and a bicycle boat with my inventor-father in the 1960s.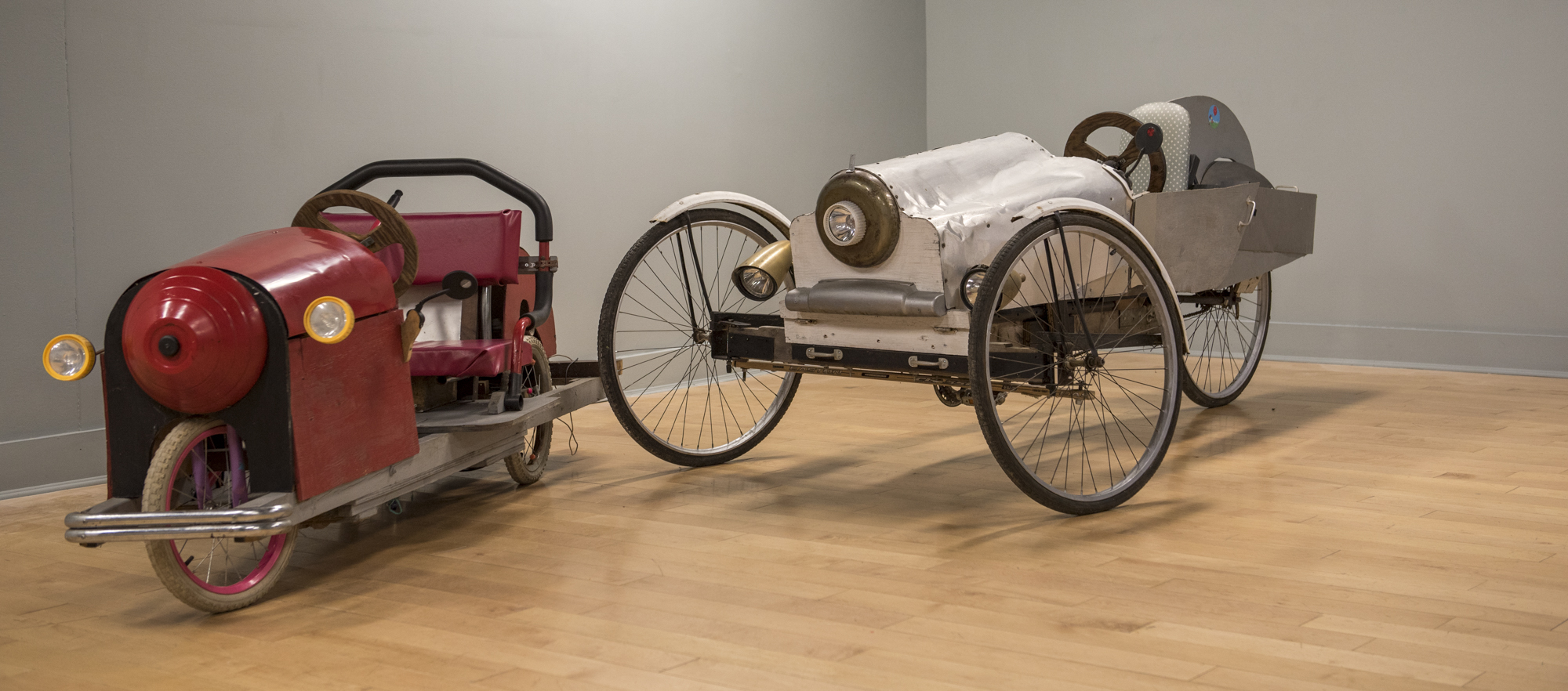 A major part of the North American landscape and lifestyle, the automobile is one of the most ubiquitous symbols of our modern, technological and consumerist world. As a subject in art, it first appeared in 1896 in a lithograph titled The Motorist by Toulouse-Lautrec, and was celebrated for its speed and dynamism in paintings by the Italian Futurists in the early 20th century. The "art car", on the other hand, occupies its own special niche within popular culture and outside of the history of traditional art media. There is a staggering array of fully functioning vehicles in all shapes and sizes that have been modified as acts of personal artistic expression, such as those fantastical creations showcased at Burning Man in the Black Rock Desert in Nevada, or in the annual Houston Art Car Parade, or in films like Mad Max 2: The Road Warrior and its sequels. There are art cars that have been created not only by ordinary people with no artistic training, but also by prominent international artists like Sonia Delaunay, Alexander Calder, David Hockney, Jenny Holzer, Roy Lichtenstein, Robert Rauschenberg, Frank Stella, and Andy Warhol. On the Canadian front, there is no shortage of cars created by artists.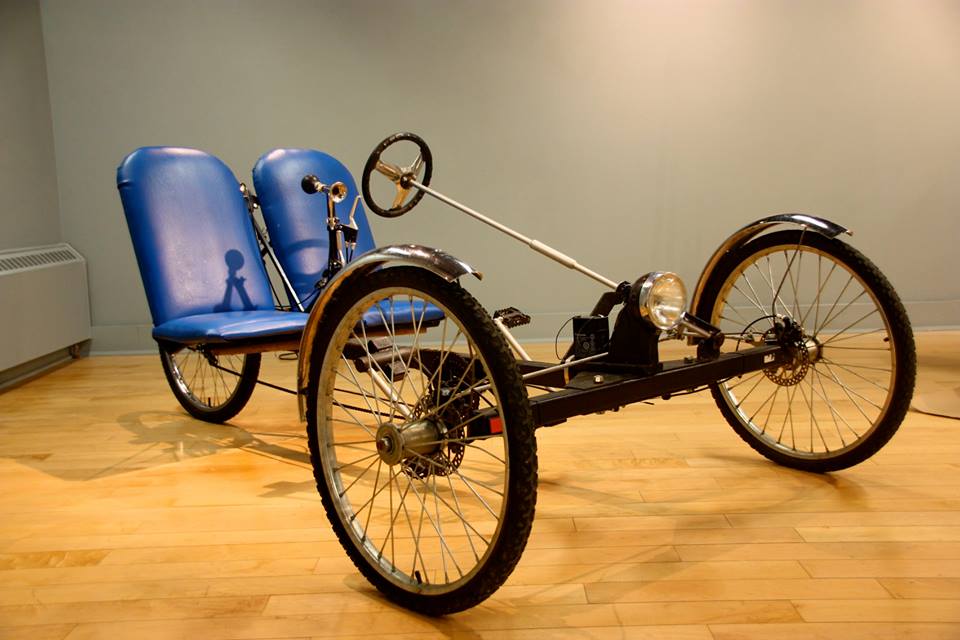 John Scott's Trans-Am Apocalypse No. 2, 1993, Tom Benner's 1958 Pontiac Star Chief, 2002, and Don Bonham's Bonneville Machine, 1972 come immediately to mind. Closer to home, in the Maritimes, David Stephens decorated a 1984 Chevrolet Camaro Z28 and a 1981 Chevette with paint, marbles, coins, found objects and broken mirror glass, and Forrestall's father, acclaimed realist painter Tom Forrestall, covered his 1980 Mercedes- Benz 300 SD with a wrap-around painting of the changing seasons.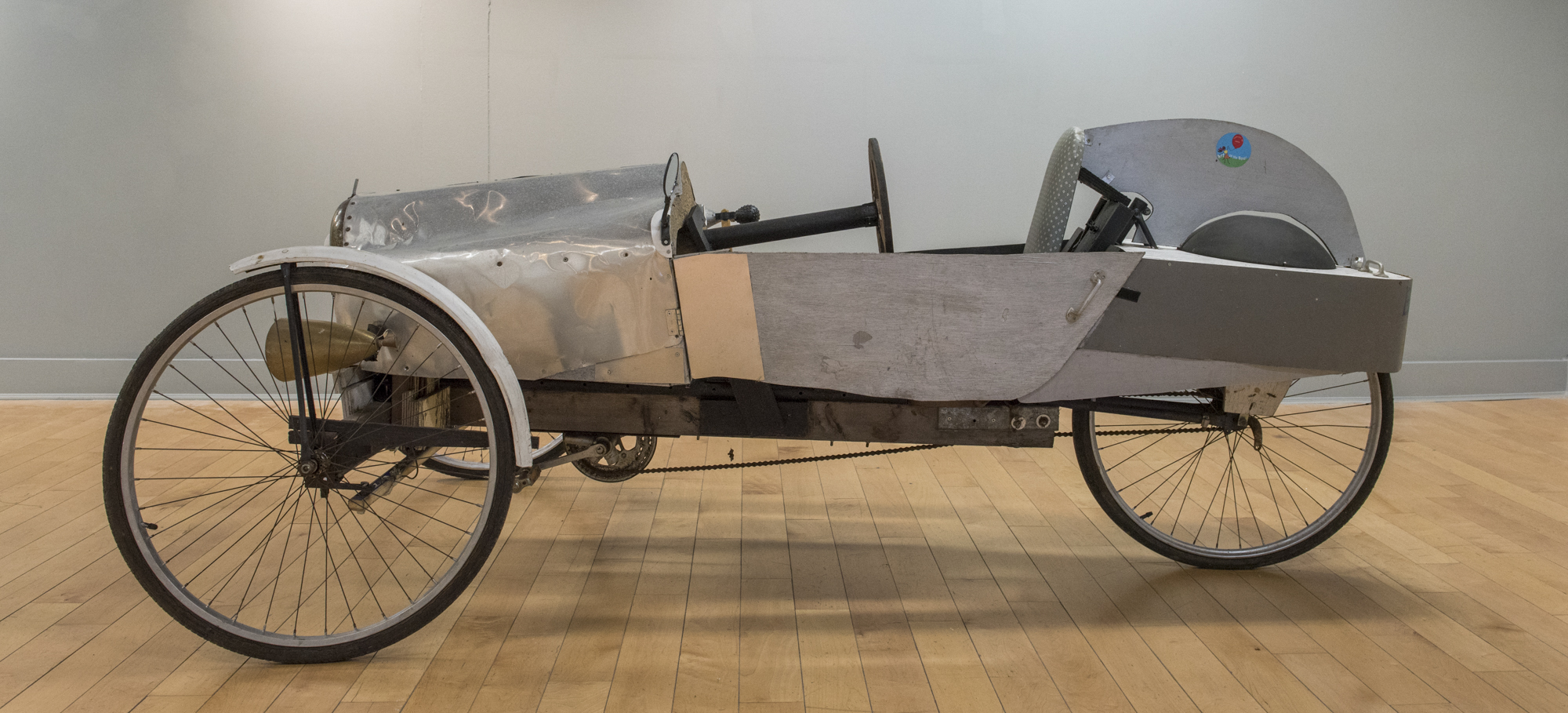 A more specific context for Forrestall's contribution to the "art car" genre is the history and culture of low-tech, human-powered and electric-powered vehicles. The pedal car extends back to the 1890's when it was first introduced as a toy for upper class children and modeled from real cars that were popular at the time. Postwar prosperity in the 1950s made the all- metal pedal car accessible and popular with children of the baby boom generation. I still have the baby blue pedal car I drove on the sidewalks in my neighbourhood as a child.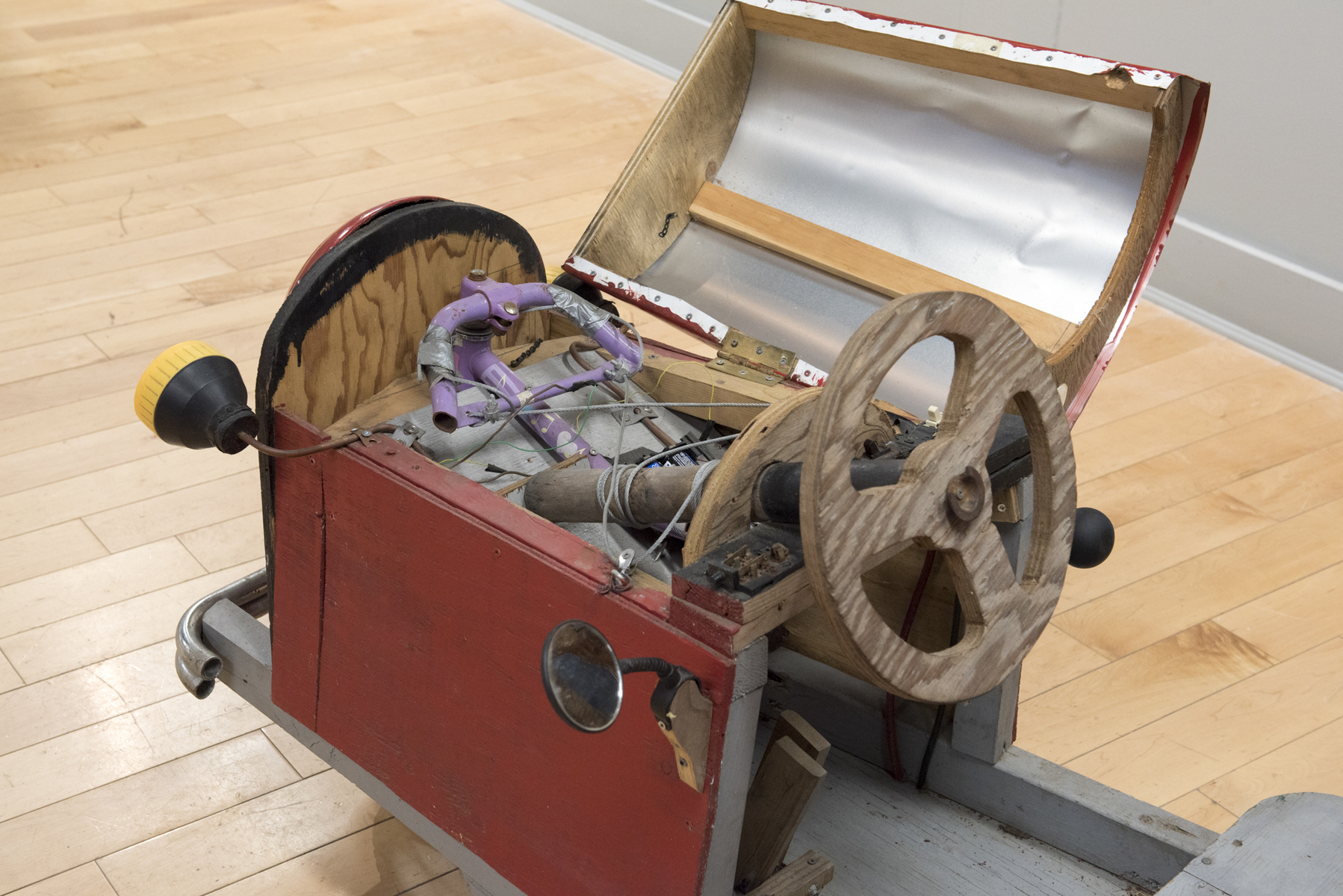 But far from its use as a toy, the pedal car, along with car-bikes, velomobiles, and electric- powered vehicles, has been commercially manufactured for adults as a way to reduce harmful impacts on the environment by conventional internal combustion gas engines. Today there is an ever-growing interest in alternative cars by consumers and car companies. Realization of the inherent economic, health, leisure, and environmental benefits of human-powered modes of transportation has prompted the creation of a diverse range of innovative one-of-a-kind home-built vehicles by creative individuals from all walks of life and from many different parts of the world. Some of these imaginative experiments and inventions are practical, such as Ted Wojcik's Mow Cycle, a pedal-powered riding lawn mower; others, such as Z. Wiggs' Poochmobile, which employs a large dog-powered hamster wheel to drive the vehicle, is perhaps less so.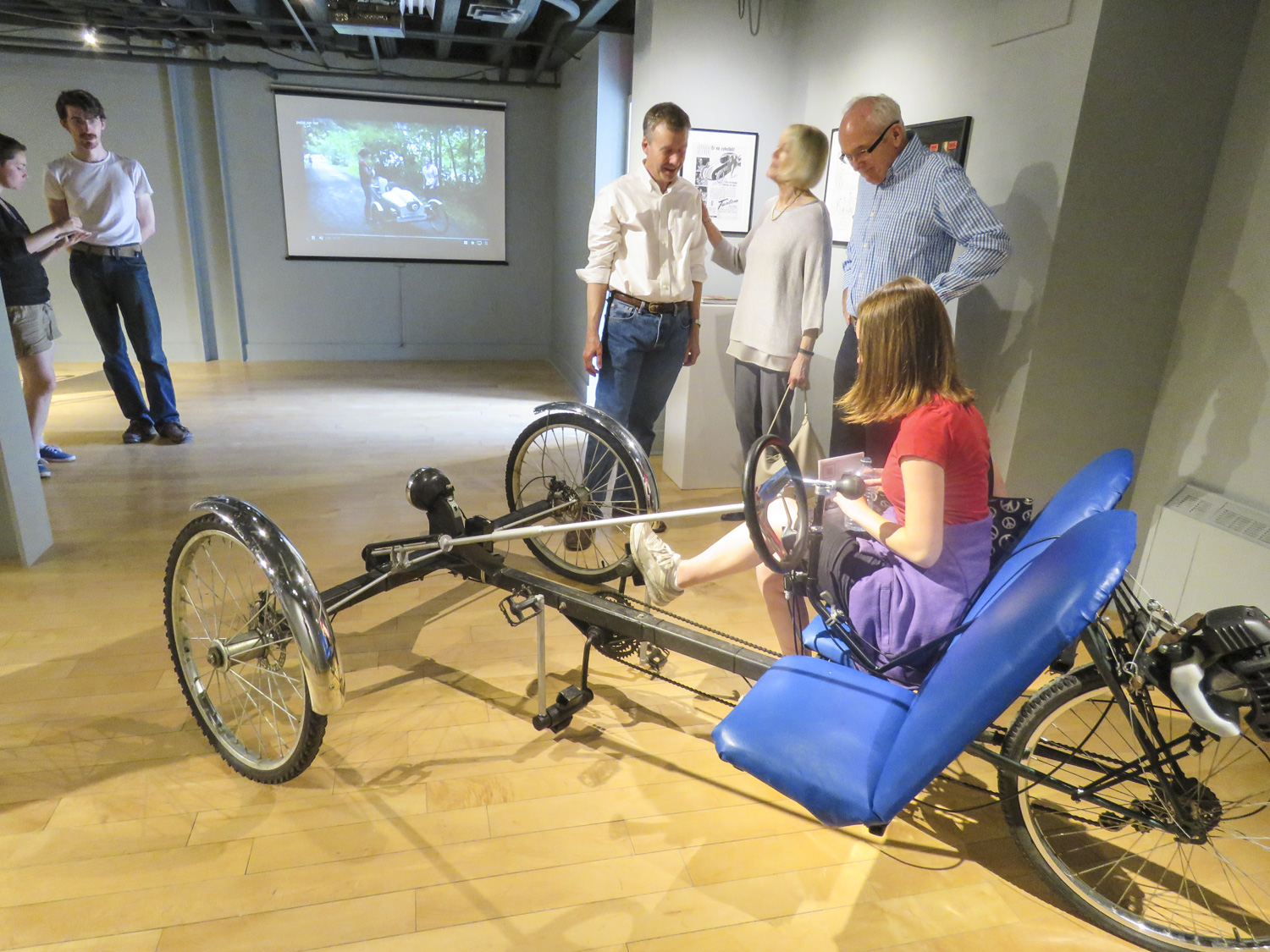 In 1961, kinetic sculptor Jean Tinguely introduced his Cyclograveur, a rickety and absurd contraption comprised of rusty parts salvaged from bicycles, automobiles and baby carriages. With the bare bones of a toy car in tow, it created works of art when activated by pushing its pedals. Intended as an anti-machine, it mocked the ascendancy of the gas-powered automobile and encouraged viewers to question modern technocracy and technological determinism.
More recently, Austrian artist Hannes Langeder made a statement about car culture and the necessity for more ecologically sustainable transportation solutions when he created Ferdinand GT3 RS, a working replica of a Porsche constructed with plastic tubing, duct tape and gold foil on a steel frame mounted over a bicycle chassis. In a similar vein, Canadian artist Michel de Broin stripped a1986 Buick Regal of its engine and other mechanical components and converted it into his Shared Propulsion Car, 2005, a pedal car for four passengers as a green alternative to gas-powered vehicles.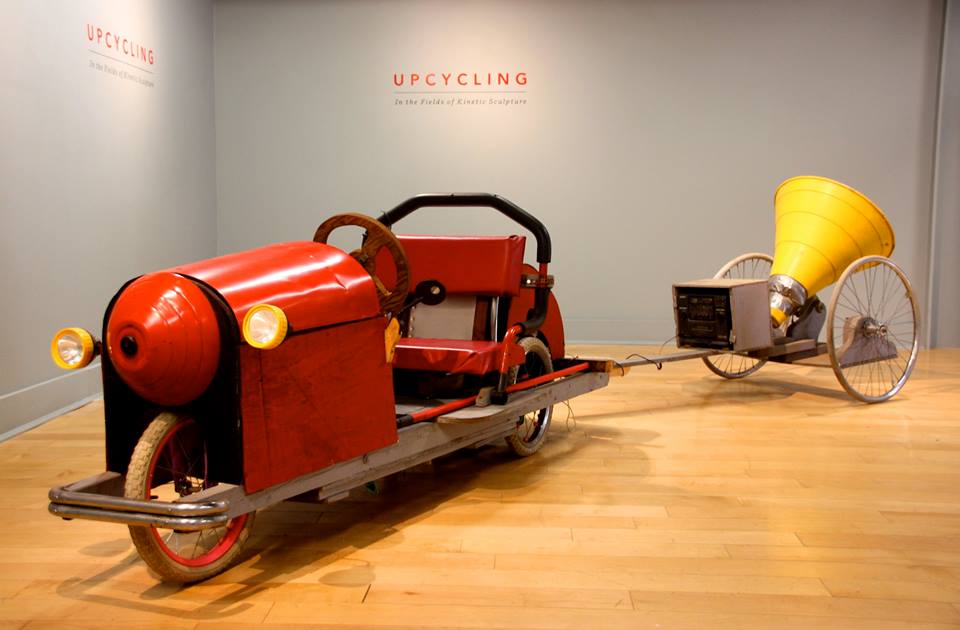 Forrestall's pedal- and electric-powered cars are aligned with the work of these inventive "cartists", as they represent the creative potential of art for examining our perceptions of individual transportation, for challenging the factory assembly line mode of production by humanizing and personalizing technology, and for opening up possibilities for offsetting unsustainable transportation patterns in this age of ecological crisis. Through creative reuse of everyday materials, or "upcycling", in the making of fully functional vehicles, Forrestall pushes beyond the fine art tradition of employing found objects as a mere reflection of consumerist society and/or of assigning a purely aesthetic value to objects. By highlighting the inherent value of recycled and repurposed objects as a prescient and timely political message, and by communicating the pure joy of imaginative play, of figuring out how things work by making and operating his own personal hand-built car, he raises serious questions about the intersections between art and technology. Forrestall's communal and performative vehicles encourage us to consider the possibilities of living more artfully in the technological landscapes we inhabit.
– Terry Graff, Artist and Curator