There is no better way to celebrate the 80th anniversary of the New Brunswick College of Craft & Design (NBCCD) than to usher a new group of talented graduates out into the world. The NBCCD Convocation Ceremony, held on June 15 at the Fredericton Playhouse, was a moving toast to these emerging designers and fine craftspeople.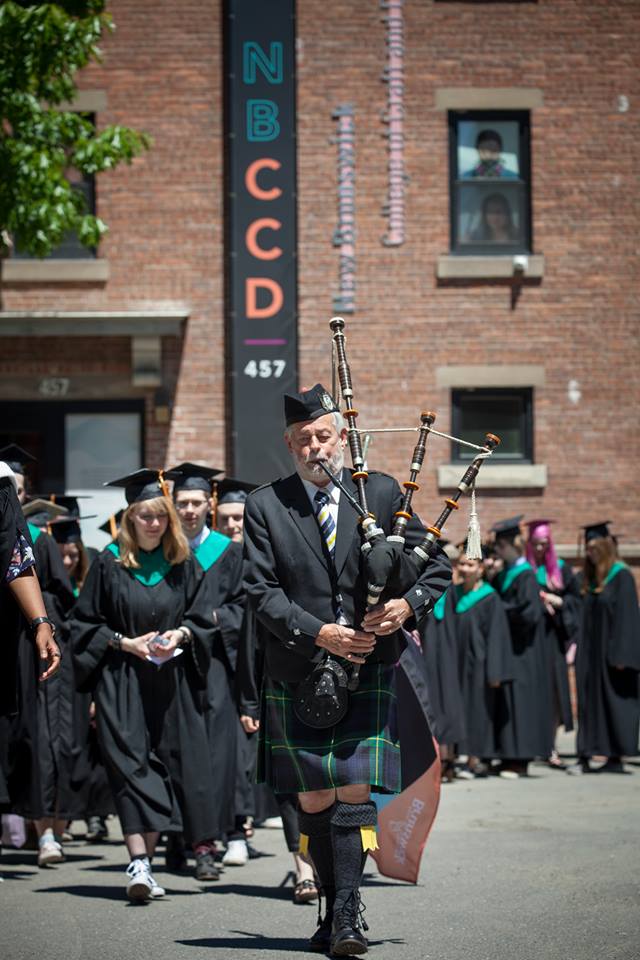 Harriet Taylor, retired Academic Dean, was awarded an NBCCD Fellow at the ceremony. During her speech, she described her NBCCD graduating class of 1985, which was composed of only 11 graduates, a stark contrast from 2018's graduating class of 150 students. "We were the little engine that could," said Taylor, in her acceptance speech. "You, I think, are the engine that does."
Indeed they do, as their academic record shows. In all, 49 awards valued at $28,625 were presented to NBCCD students this year. The Governor General's Collegiate Bronze Academic Medal is awarded to the student who achieves the highest overall average upon graduation from a diploma-level, post-secondary program from each college. This year's winner is Joanna Richardson, graduate of the Ceramics Diploma Program, who also won The Duffie-Crowell Award for most worthy and deserving Diploma graduate, the Creativity in Ceramics Award, and The Gallery on Queen Purchase Award.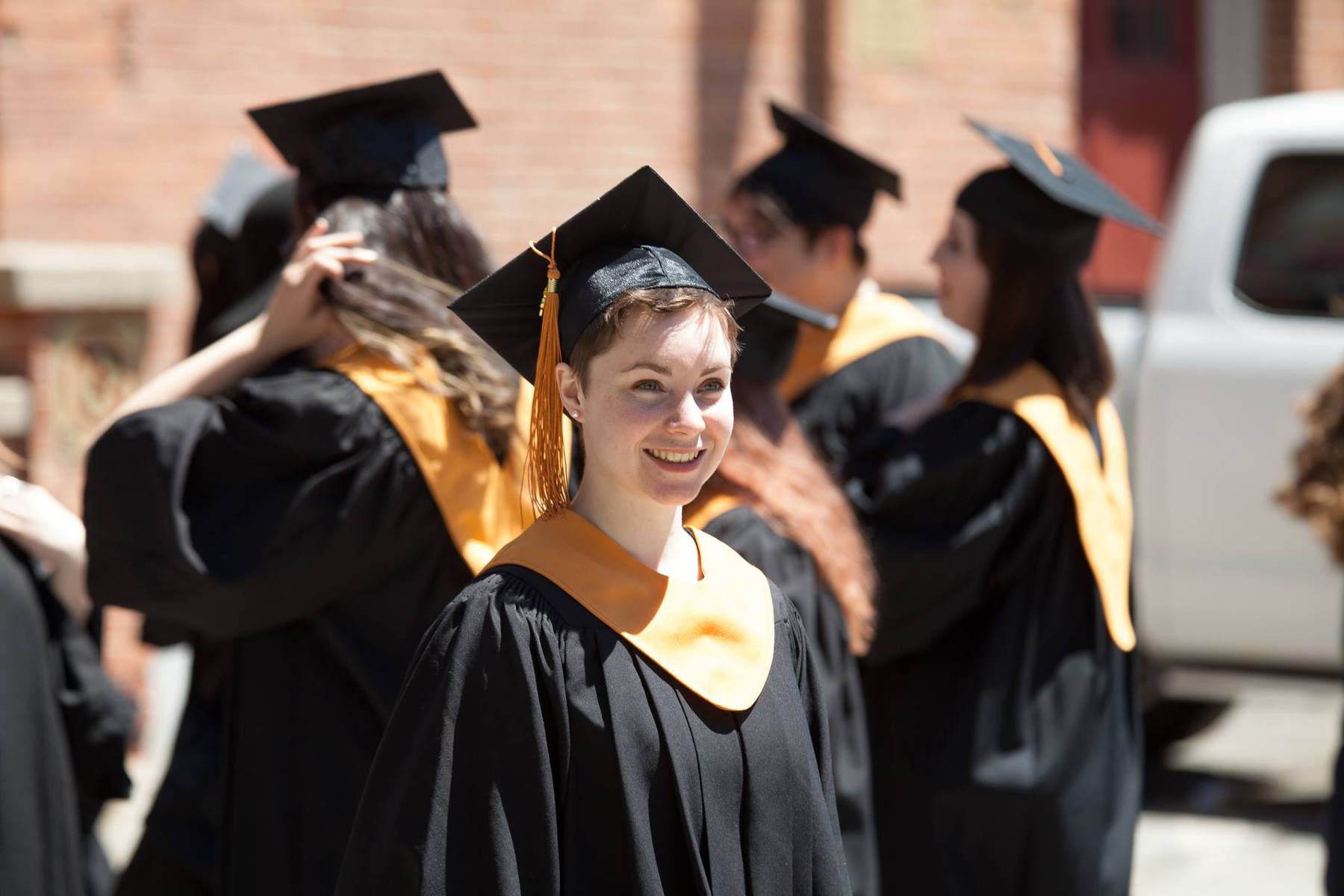 The 2018 Valedictorian was selected for her dedication to building community and camaraderie within the Graphic Design studio. Kirsten Stackhouse graduated this year with Honours from the Graphic Design Diploma Program, as well as graduating with a Bachelor of Applied Arts Degree, a joint program between NBCCD and UNB. She provided words of encouragement during her send-off speech. "I've learned that often when it feels like you're not moving in the right direction, or perhaps just not moving fast enough, it's rarely actually as impossible as it feels," said Stackhouse. "Failure is not the end of anything, and in fact it's a part of most processes. It's the natural shadow of trying; of doing anything."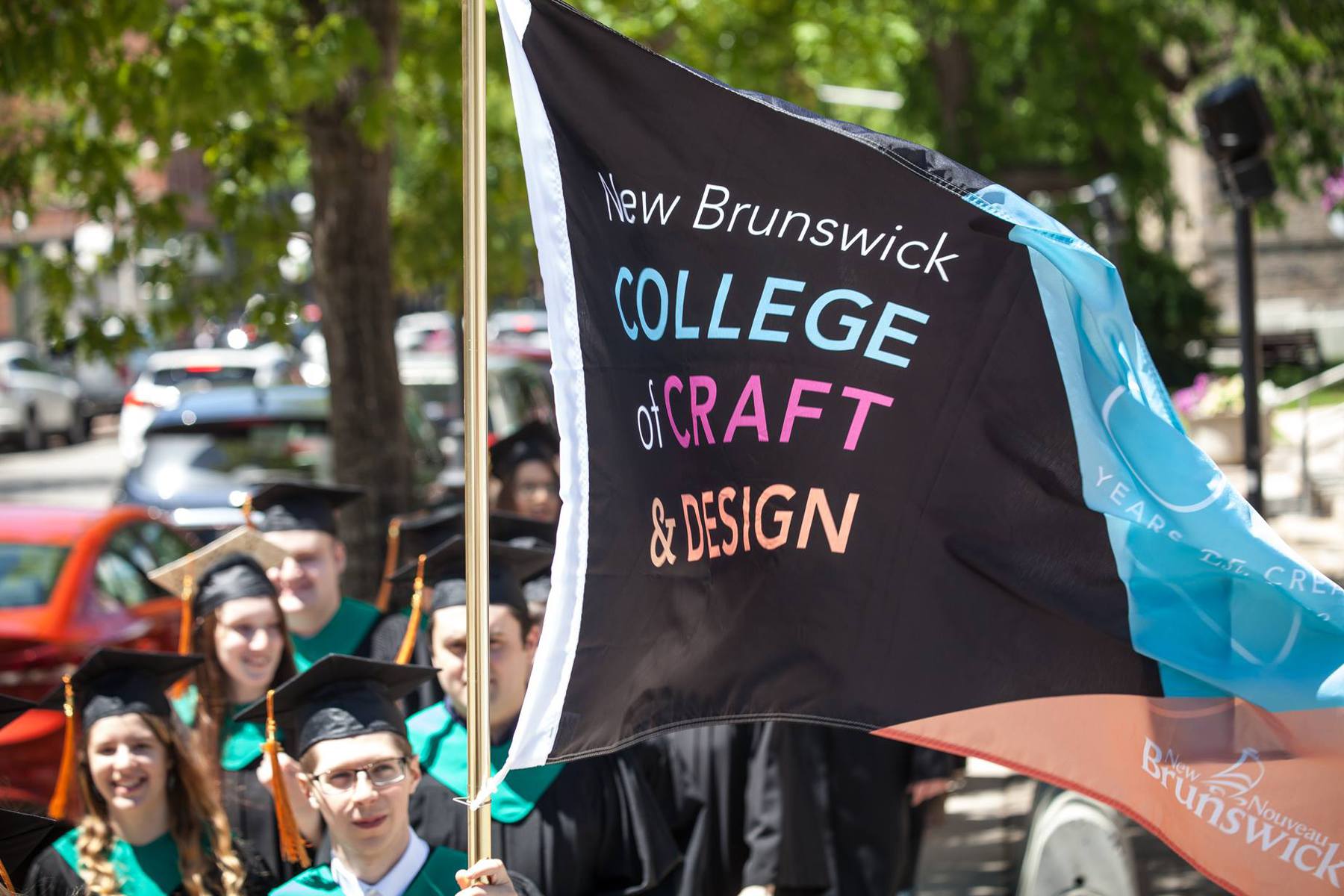 The reception was held at the Beaverbrook Art Gallery during the opening of the NBCCD Diploma Exhibition. Featuring stunning graduate pieces from each of the studios – Aboriginal Visual Arts, Ceramics, Digital Media, Graphic Design, Fashion Design, Jewellery/Metal Arts, Photography and Textile Design – this diverse, colourful, and inventive show is not to be missed. View it at the Beaverbrook Art Gallery until September 16.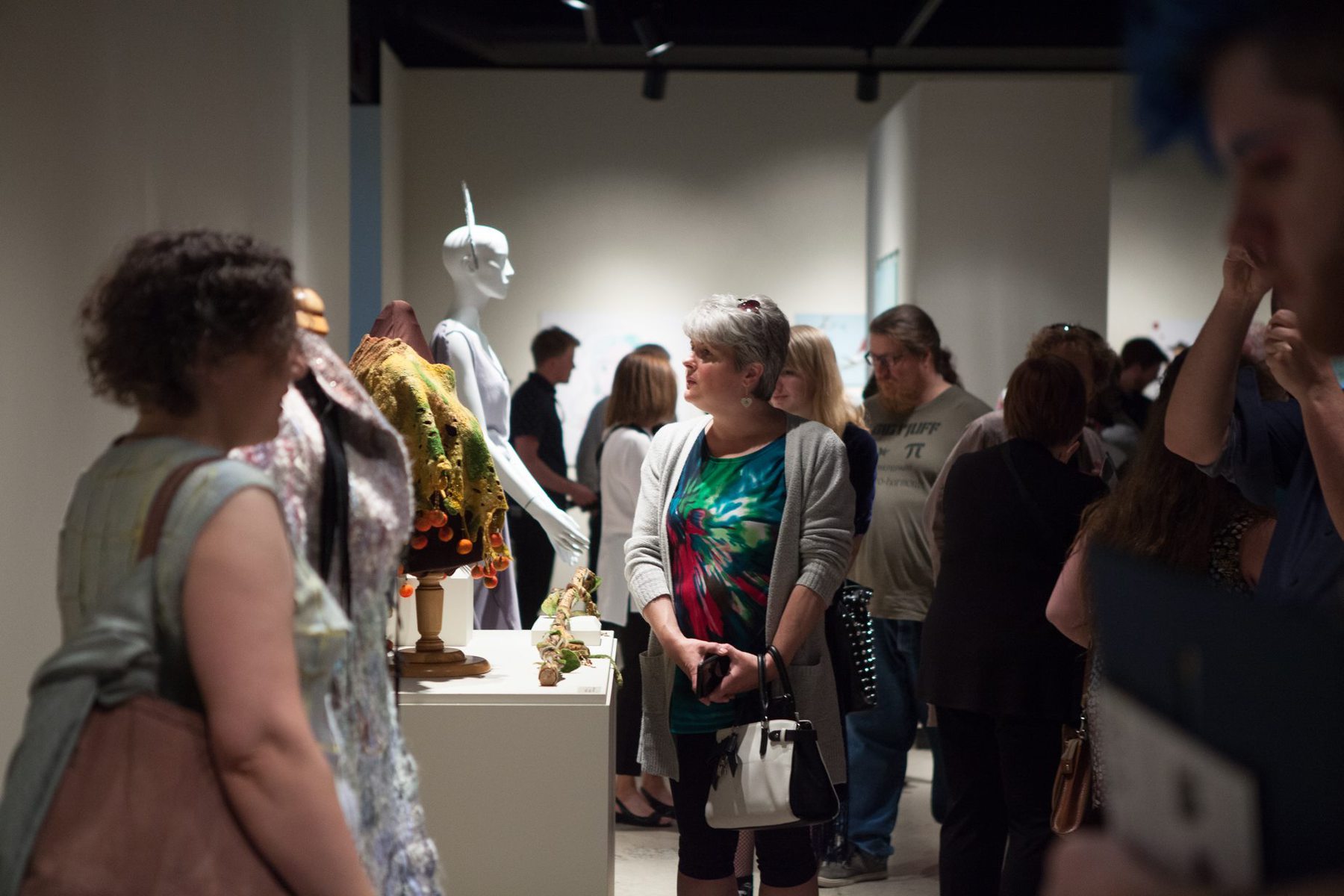 This exhibition also features a timeline wall designed by alumna Kerry Lawlor, a snapshot of the 80 years of history the College is built upon. From its origins in 1938, to the thriving three-building campus with record enrolment in 2018, NBCCD continues to evolve.
The NBCCD Diploma Exhibition coincides with a series of other NBCCD exhibitions in New Brunswick. Gallery 78 is hosting the graduate exhibition Mometum for Advanced Studio Practice (ASP), and Gallery on Queen is featuring Static Pressure, also an exhibition by ASP students. The Saint John Arts Centre is displaying the NBCCD Craft & Design Exhibition, and Government House in Fredericton is exhibiting Sterling, by students of the Jewellery/Metal Arts program. NBCCD's recently acquired space at 412 Queen Street houses the Red Brick Gallery and its current exhibition by Photography students.
As NBCCD grows, so too do the opportunities for career advancement for recent graduates. On June 11, 2018 the College swung open the doors of the "Barracks Fine Craft Studios". Launched as a bold Experiential Learning initiative, this pilot program will propel NBCCD students towards their careers as designers and makers.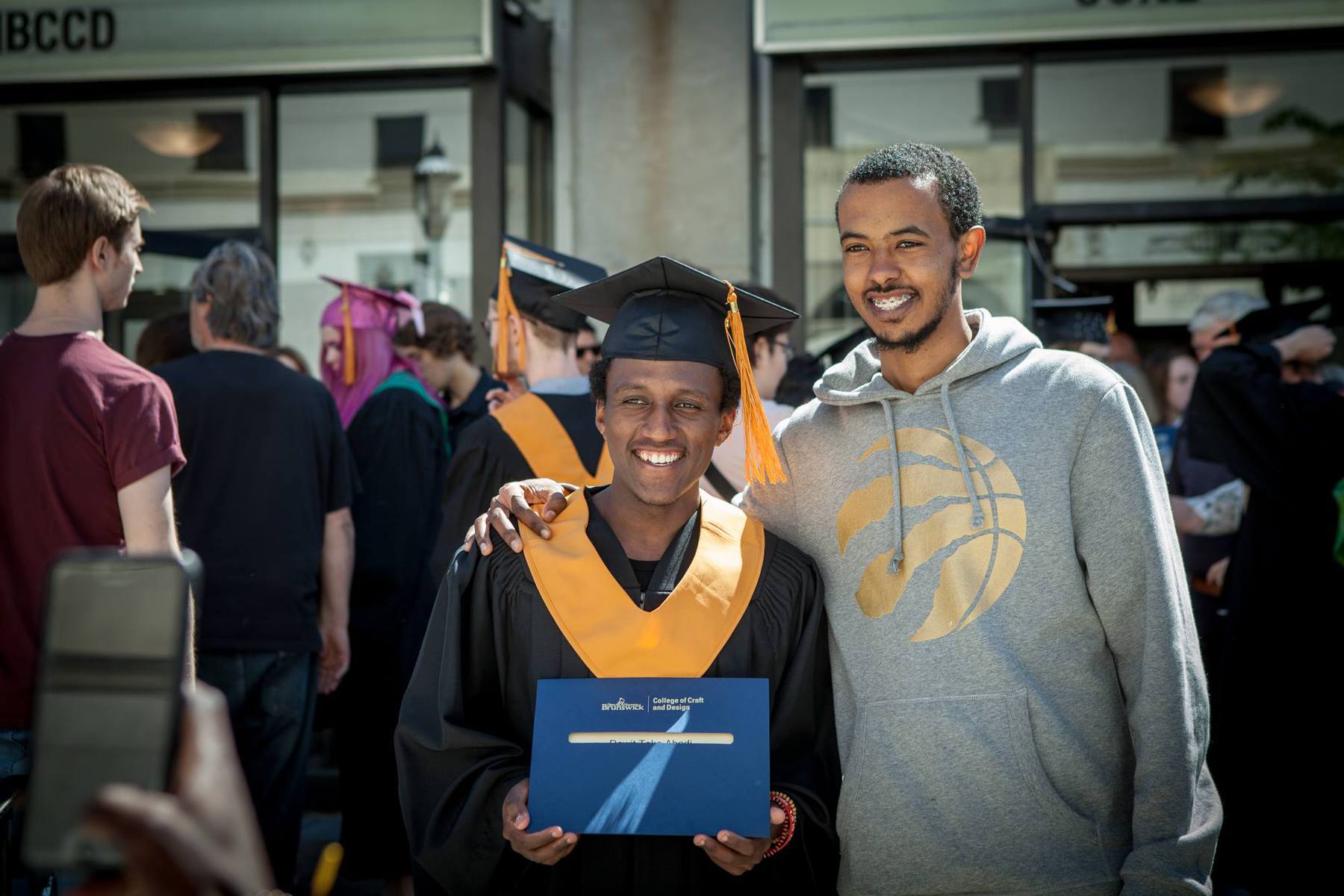 Participating students are enrolled in either the 2-year Diploma Programs or the 1-year Certificate in Advanced Studio Practice at NBCCD. As experiential learners, each student has been assigned operational studio space in the Barracks Fine Craft Studios. College Director Marc Braithwaite says "the intent is for students studying Aboriginal Visual Arts, Ceramics, Jewellery/Metal Arts, Photography and Textile Design to develop their skills and become even more proficient in their craft. It's a chance for up-and-coming designers and makers to experiment and take risks while engaging with the public. Experiential learners will expand their appreciation on how to develop their studio practice spaces. Furthermore, they will create relationships with the community, potential customers and local galleries. They will engage in market research and learn more on how to price their one-of-a-kind designs for the retail marketplace".
The public is invited to help launch the careers of NBCCD's creative, entrepreneurial minds by engaging these experiential learners as they seek constructive feedback on their work. "New Brunswickers and visitors to New Brunswick will be exposed to the commitment and skills necessary to be a successful designer and maker in the creative economy," says Braithwaite. These experiential learners will build their work and showcase the processes and elements of design as their products evolve from raw materials into finished products. A limited number of their products will be available for sale in either the NBCCD's Craft & Design Shop located in the George Fry Gallery, 457 Queen Street, or at the Garrison Night Market during the summer. The Barracks Fine Craft Studios, 463 Queen Street, Fredericton, will be open until September 3, 2018 from 10am to 6pm, 7 days a week, including holidays.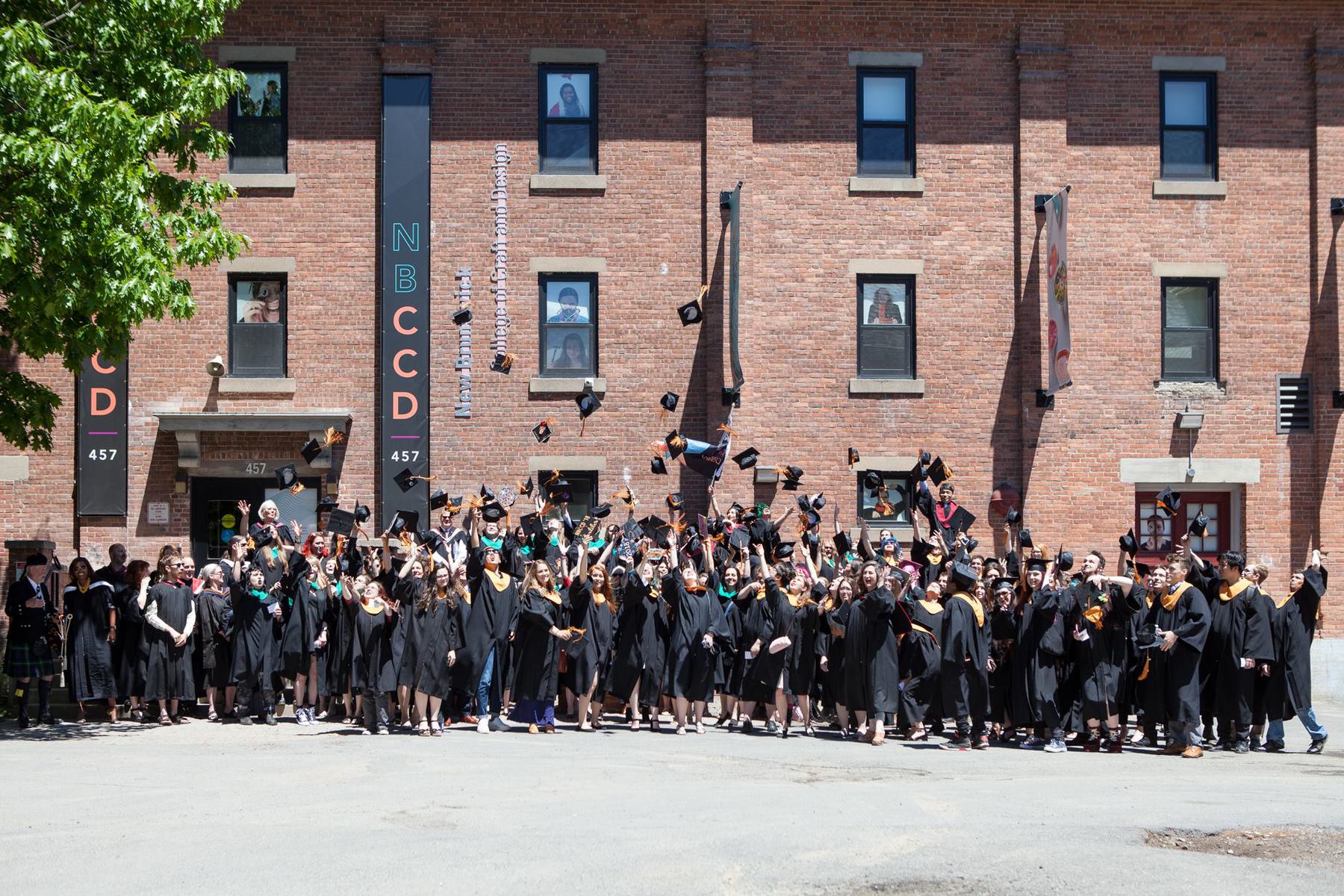 With so much opportunity on the horizon, the 2018 graduates of NBCCD have a great deal to look forward to in their careers. To echo Valedictorian Kirsten Stackhouse, "Art is Work," and the NBCCD graduating class of 2018 has proven with the great successes of their academic years that they are ready to do that work.