*A review of metalwork by Audrée Hamelin St-Amour from the 2018 Exhibition Metal Six, written by George Fry Gallery Coordinator Karen Ruet.*
Audrée Hamelin St-Amour talks amidst her work in the group exhibition Metal Six, curated by Brigitte Clavette in the George Fry Gallery. A life-sized image of her five-year old son Enzo, wearing white and standing barefoot, hangs on the wall behind her. There are subtle signs of play on his pants, and huge, colourful jewellery around his small neck.
"Creative gesture and self-expression is not a little thing," said H. St-Amour, looking at the jewellery. "It's big."
Her new work involves collaboration with children, starting with Enzo. It's called "Foreground" because it relates to the origins of a child's identity and original forms of expression. H. St-Amour made this conceptual work with a Creation Grant from ArtsNB.
She is reaching into a child's innate creativity, and examining the first marks children make, before the idea of representational drawing comes into play. She honours their free expression and gesture, and turns that into wearable jewellery.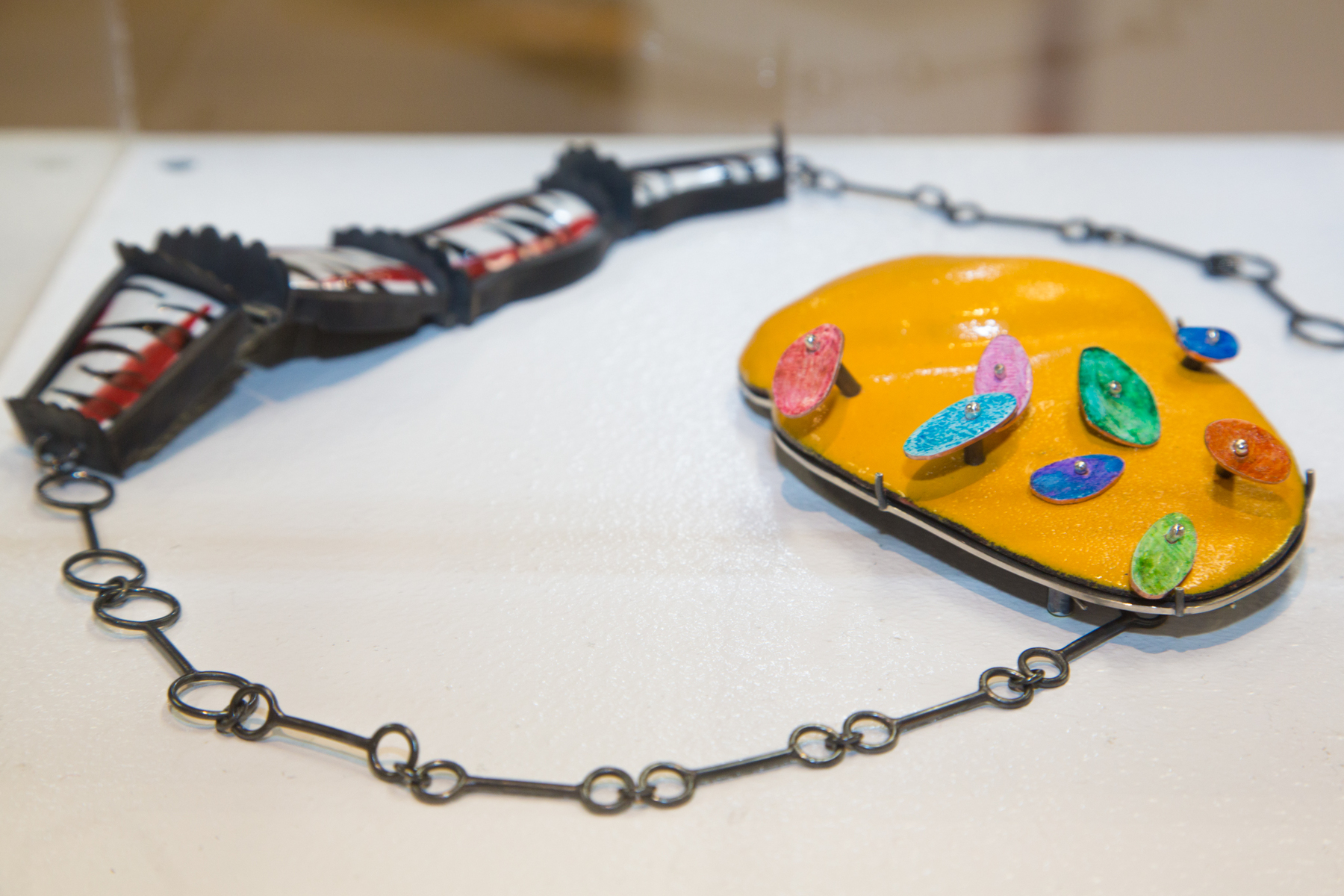 She is working primarily with enamelling. It's H. St-Amour's first foray into exploring and exhibiting enamelled work, but it was the right choice: the children's drawings that act as her inspiration are so bold and colourful. She's discovering that enamelling is a fine and finicky technique, but the results are worth the effort.
"It's especially hard because I'm [making marks in metal, but I] am trying to represent something as supple and flexible as free gesture," she said.
Coming out of this process is another body of work, the "Space Pickle" brooches. These bumpy, jewelled pickle-forms are presented on round shapes that look like the cosmos. H. St-Amour discovered the pickle while experimenting with metal shapes for Enzo's jewellery.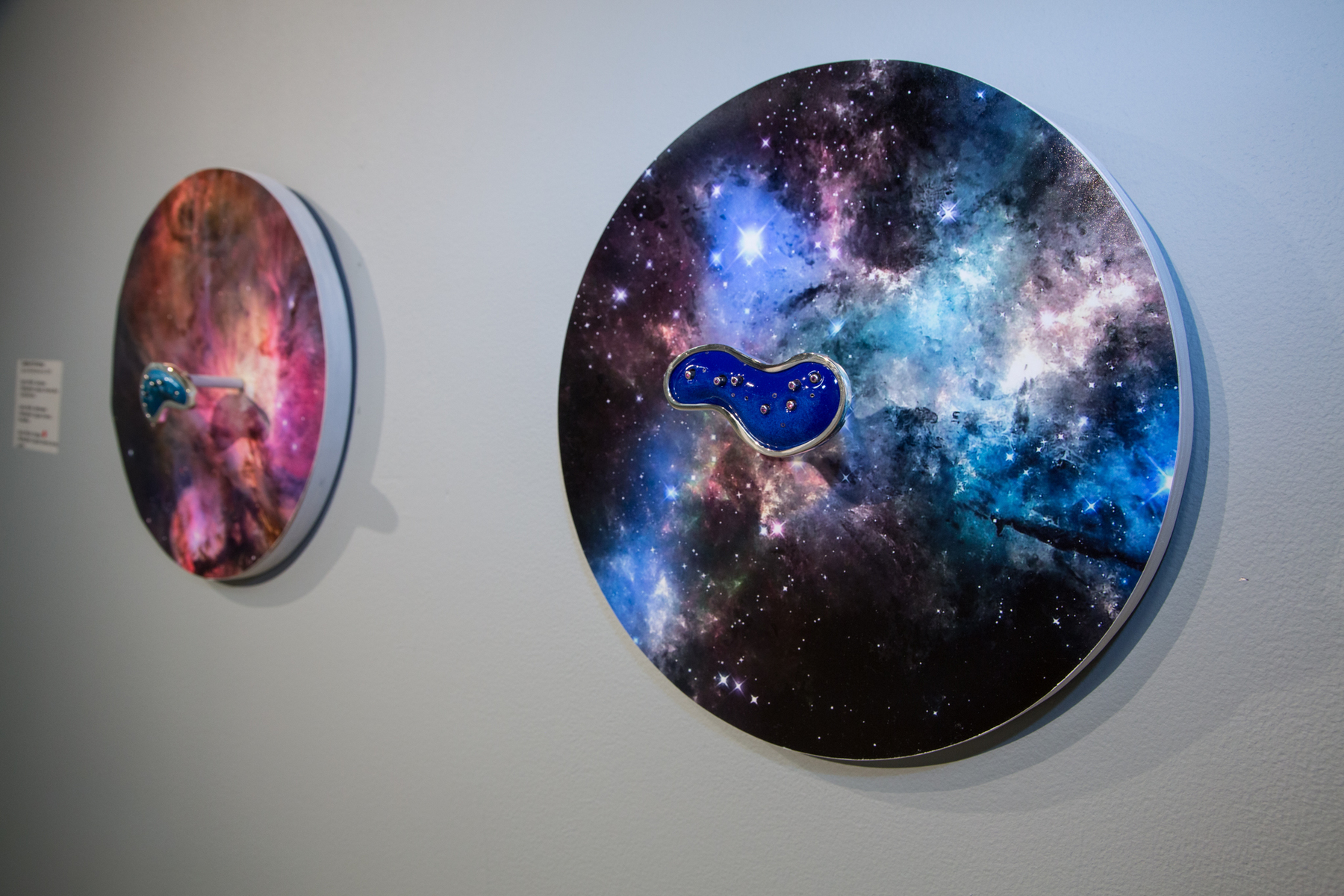 "That shape was really appealing to me and I started laughing on my own in the studio because to me, automatically, it looked like a pickle! Because the shape was so funky, I totally imagined that pickle being  put in[to] space!"
St-Amour points out that almost every culture has its own form of the pickle, enjoyed at the family meal. There's so much beneath the surface of what we see: sustenance, tradition, culture. The pickle deserved another examination.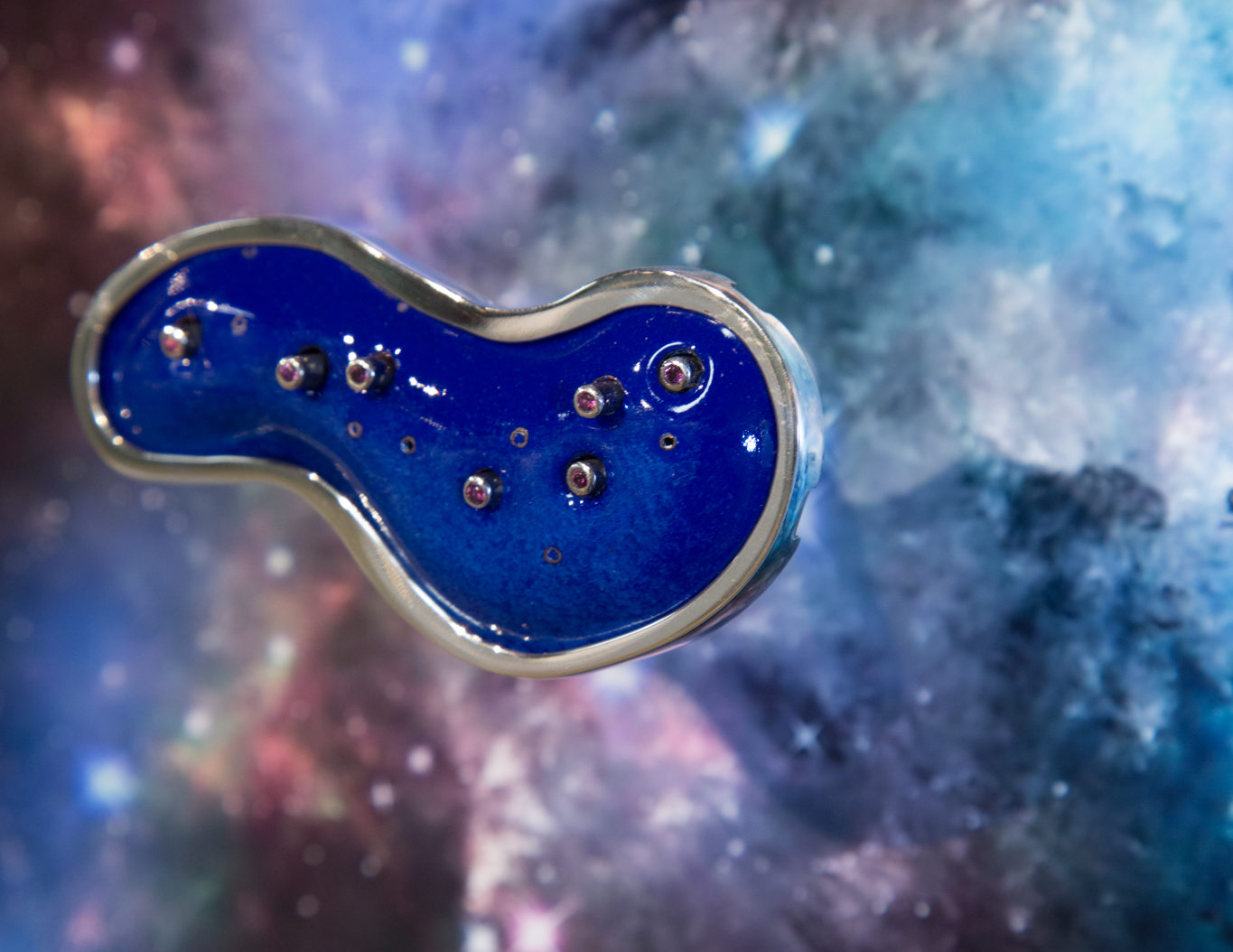 She is curious about the kinds of pieces she will produce in collaboration with other children as this project continues. It is an exciting challenge to be loyal to the shapes and colours they use because they are not those she would naturally choose.
When she presented Enzo with his jewellery his reaction was immediate: "I made this?!" he exclaimed.
"He loved it. He was so impressed!" said H. St-Amour.
He wanted to wear it and put it close to his own body. His reaction was quite amazing, but short lived. For the next stage, H. St-Amour is going to present the jewellery to the children at the photo shoot and capture their reactions on film.
Enzo's pieces in the "Foreground" series are just the start. She intends to work with at least six other children, with life-sized images to accompany each piece of jewellery. It's a unique collaboration.
"In a way," said Audrée, "the children don't know they are collaborating with me!"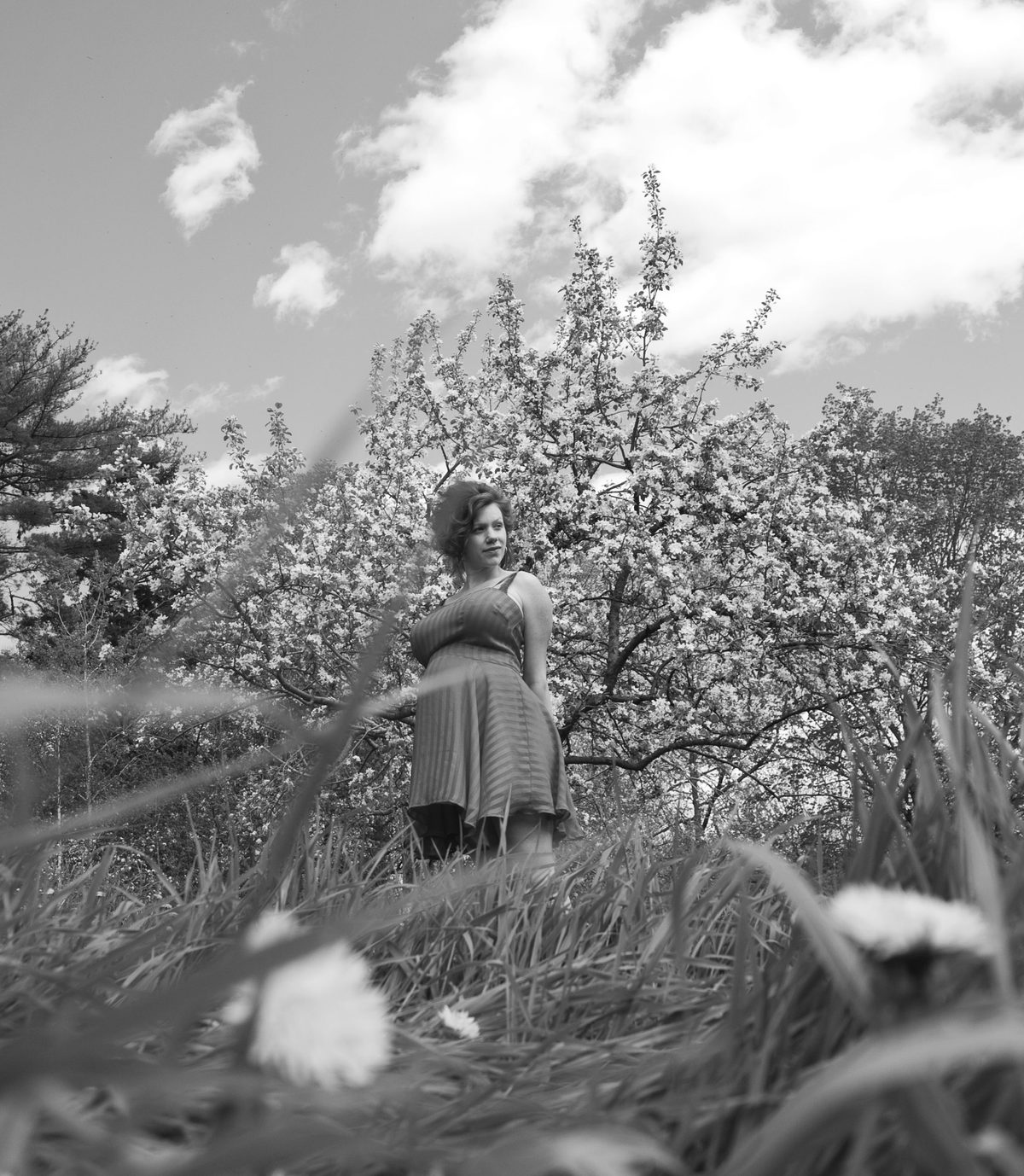 ***
New work by H. St-Amour can be seen within an exhibition by our full cast of Jewellery/Metal Arts faculty at The Beaverbrook Art Gallery. Her Metal opens January 19th, 2019. This new work by the instructors is inspired by the permanent collection at the Beaverbrook Art Gallery.
NBCCD's George Fry Gallery is committed to exhibiting exciting, professional work in a welcoming, incubator-style environment. An extension of this goal is to offer an online forum for open expression and response to the exhibitions. Please contact Allison.Green@gnb.ca should you wish to review one of our exhibitions for possible inclusion on our website and social platforms.