We Are Still Here, Our Roots Are Strong
by Aboriginal Visual Arts Student Chelsea MacCormack
"People will sleep for one hundred years, but when they awake, it will be the artists who give them their spirit back."
– Louis Riel, July 4, 1885.
The year 2019 opened up some very exciting opportunities for students of the Aboriginal Visual Arts (AVA) Diploma program at the New Brunswick College of Craft and Design (NBCCD). One such opportunity is Earth & Light, a collaborative exposition of craft and visual design at the Fredericton Playhouse, on now until February 28th. The exhibited work was created by Photography students with special featured photographs of Aboriginal Visual Arts creations.
Meanwhile at NBCCD, the George Fry Gallery exhibits WE ARE STILL HERE, OUR ROOTS ARE STRONG until February 13th. The AVA studio has chosen this title for the show because it reflects the process that First Nations Peoples have experienced and the healing that has happened through art.
This exhibition, featuring a variety of creations from students, faculty and alumni of AVA, takes traditional Indigenous mediums and translates them through the contemporary application of skills. Friends of the program have also been sharing their knowledge with us as guest speakers and these events have been open to the public in the George Fry Gallery at 12:05pm on the following dates:
January 23
Song and Dance | Samaqani Cocahq (Natalie Sappier) & Sarah Francis
Join Samaqani and Sarah as they share traditional and contemporary songs and dance.
January 30
History Through Visual Art | Emma Hassencahl-Perley
Emma will share her experience as an Indigenous multidisciplinary artist who examines our shared history in Canada, legislative identity, and her own Wolastoqiyik identity.
February 7
Story Telling | Ron Tremblay
Oral tradition is an important part of Wolastoqiyik culture. Ron will share stories and legends as a way of sharing language, beliefs, and history.
To RSVP click here to visit the event on Facebook.
There will also be a blanket ceremony at the Fredericton Public Library exploring the Nation-to-Nation relationship between Indigenous and non-Indigenous Peoples in Canada.
The Aboriginal Visual Arts program is unique in Canada because of the emphasis on the traditional learning and history of the Atlantic region – New Brunswick, Prince Edward Island, Nova Scotia, and Newfoundland. Students of this two-year Diploma program learn historical and contemporary fine crafts of the Mi'kmaq, Wolastoqiyik and Passamaquoddy peoples. This program is especially important for First Nations but it can also be valuable for those with outside heritage. It is a place to come to learn about the land and the First Peoples of this land. It is a place to learn how to apply research and self-reflection, and to engage in creative problem-solving.
Art is medicine. This concept can be difficult to remember at times. Art enables us to connect with our culture and our ancestors, no matter who they may be, and to raise our awareness of what's going on in the world. Join us and take part in a space of healing, sacredness, and ceremony, and to pay tribute to the repair and recovery of the past. Just as our ancestors paved the path for us, we hope that our efforts will pave the way for a better future for all our Nations.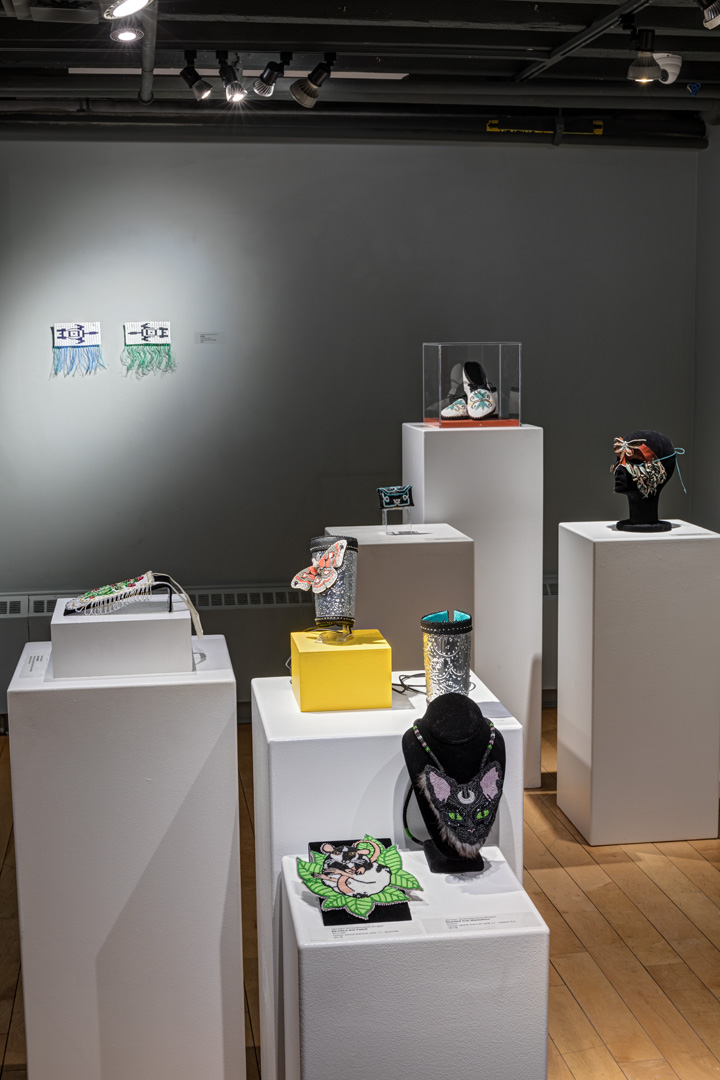 Words by Chelsea MacCormack, Photographs by Roger Smith