"In two years, it's amazing how much you can achieve."
—Tomo Ingalls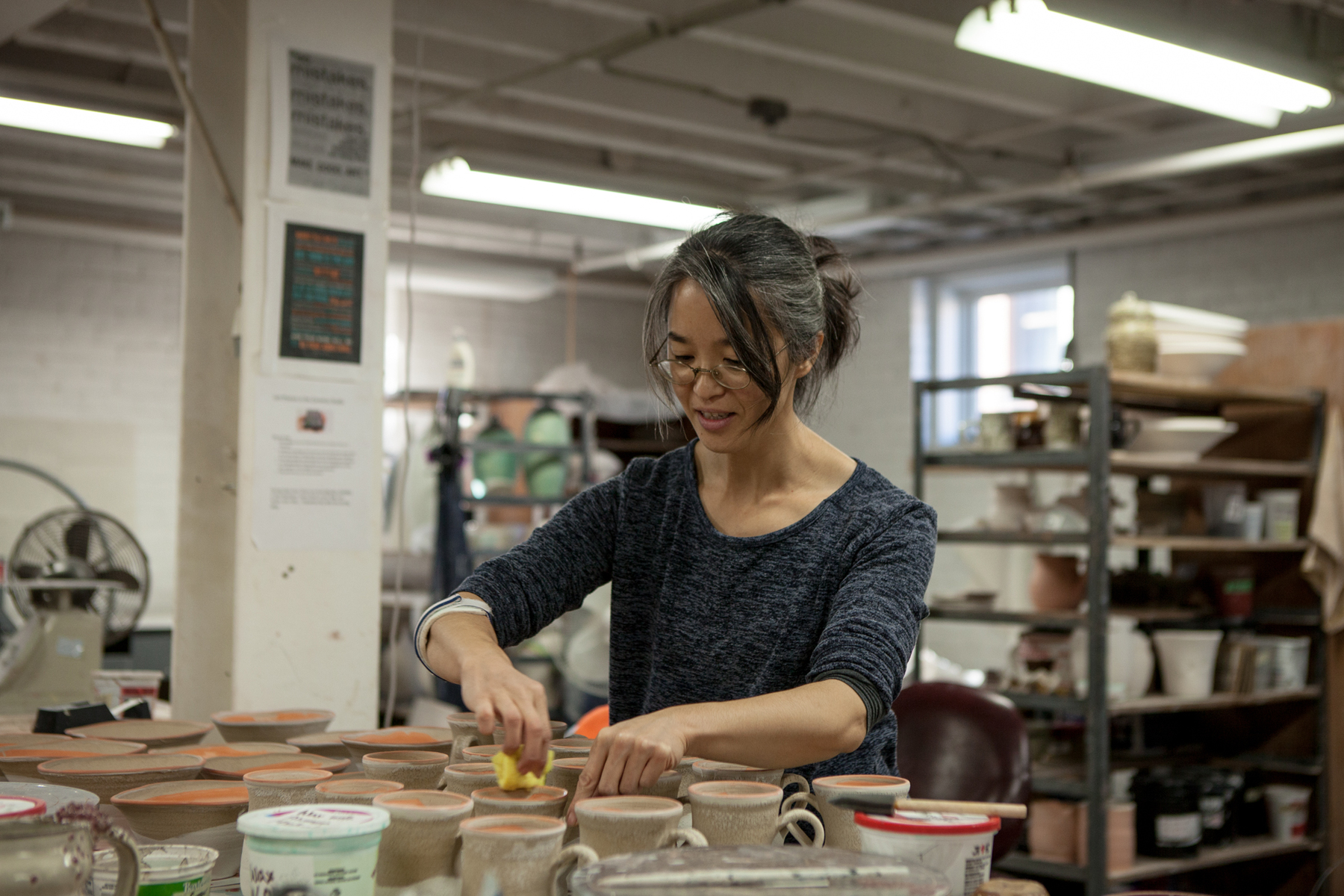 Those who don't mind a little dried clay under their fingernails can accomplish wonders in NBCCD's Ceramics program. A two-year diploma, our Ceramics program attracts a variety of aspiring potters. From our FVA graduates to mature students with equivalent levels of experience, enrolled students are taught how to work in the creative market while experimenting with clay, testing firing methods, and learning skills essential to the development of their personal style.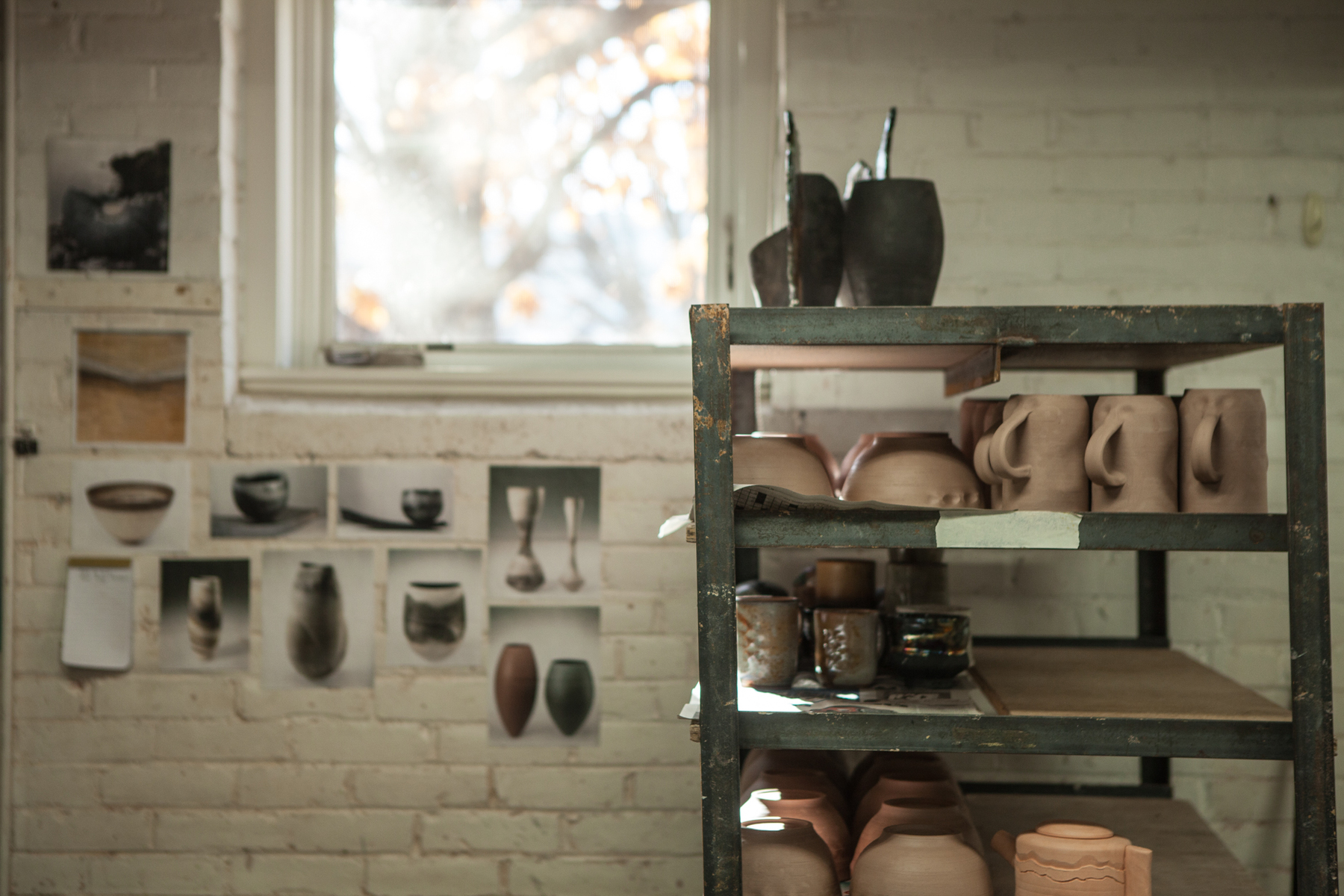 Carla Weideman, a second-year Ceramics student, took community pottery classes before coming to NBCCD. In love with the art form, she knew she needed to further her learning if she wanted to find her artistic style. She explains, "[Ceramics] constantly piques your curiosity because you're having to solve problems all the time in the studio." For Carla, one of the highlights of attending NBCCD was the opportunity to mix glazes in the first year whereas other schools reserved those classes for second-year students.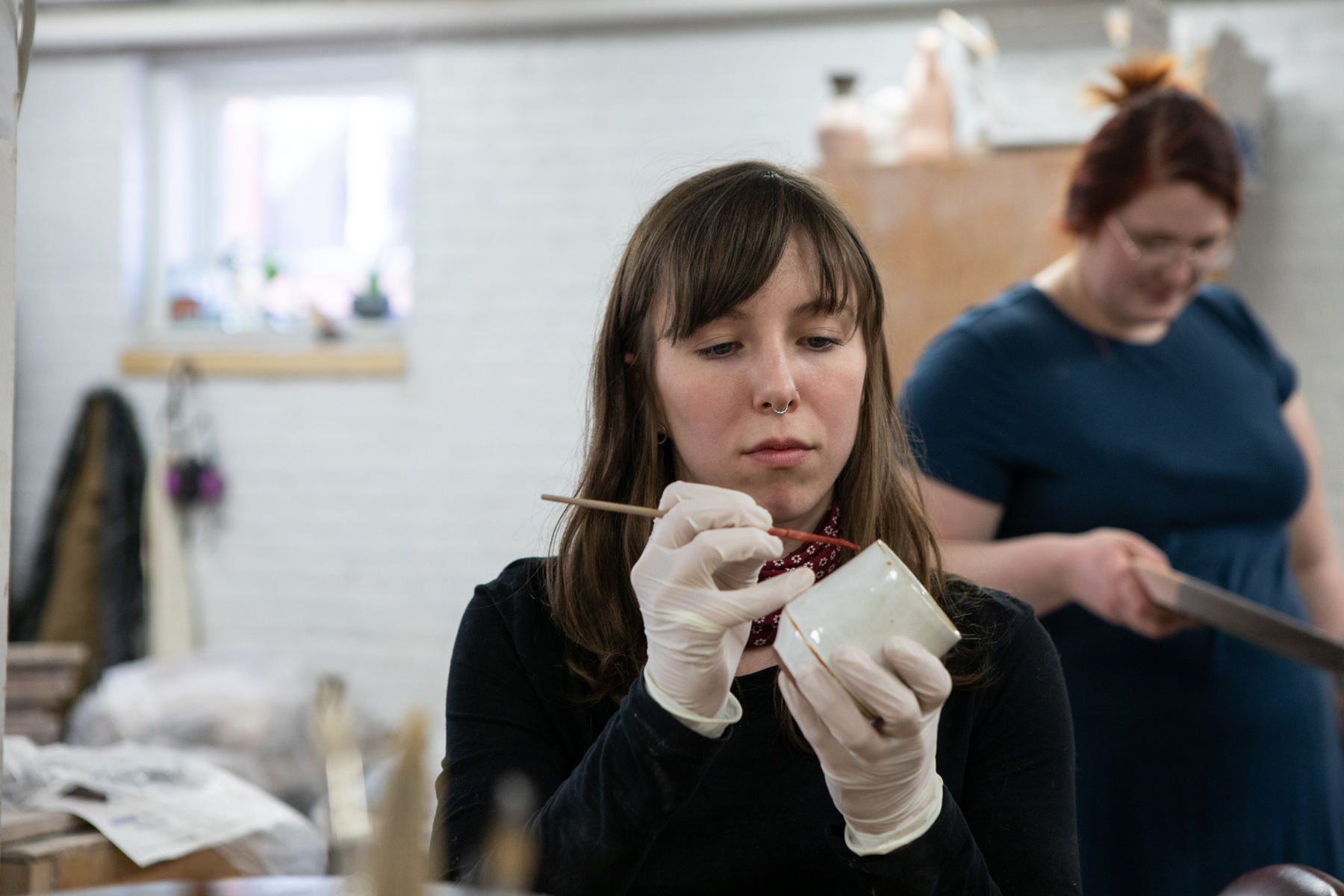 Tomo Ingalls, now a graduate of the program, also began her pottery journey outside of NBCCD. In Ottawa, Tomo took pottery classes while attending university. "I only did hand-building and coil build. I made maybe two or three in a span of four years." Knowing she wanted to do ceramics as more than just a hobby, Tomo visited NBCCD on the word of one of her university techs.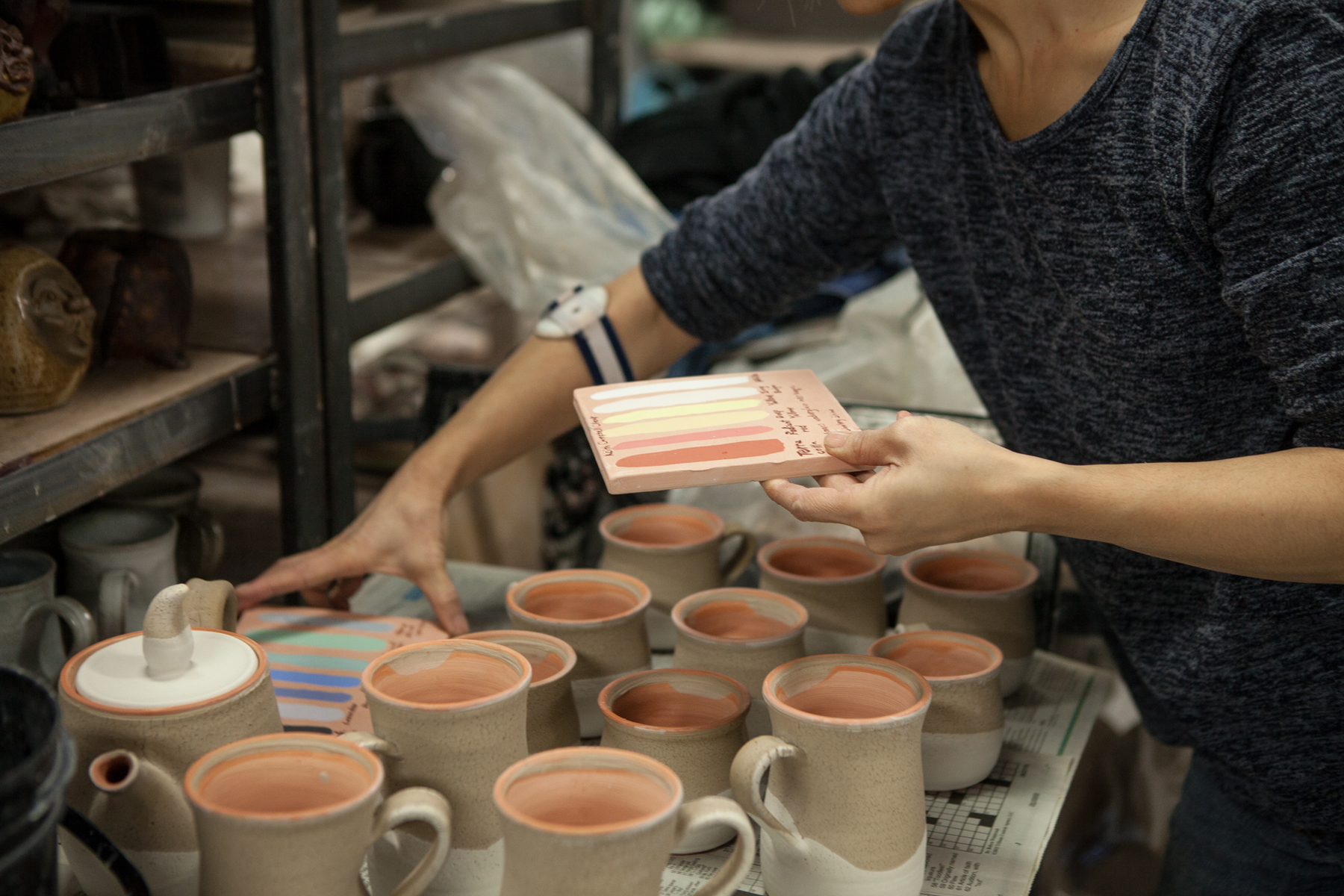 Though Tomo and Carla had experience outside of the program, they agree that the first year of classes was fundamental to building their skills as potters. Tomo, who bought a kiln of her own on a whim, finally learned how to use it: "We all learn how to use a manual kiln, electric kiln, and the gas kiln. . .you have the option to learn any kind of firing." For Carla, the first-year throwing classes were the most intensive, but they built a necessary foundation of skills: "It forces you to get into that habit of constantly throwing and throwing the same form over and over."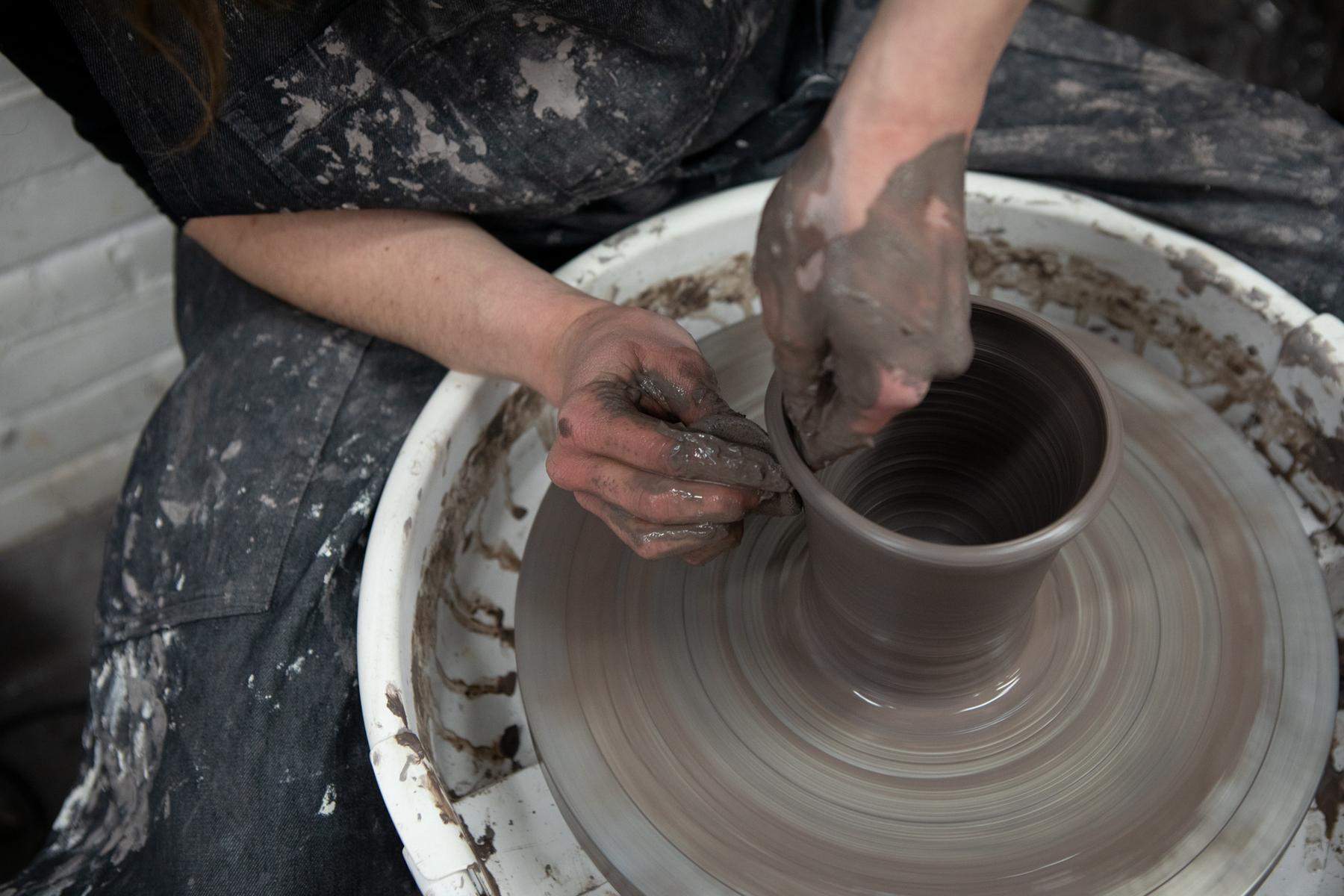 Replicating forms is important for a potter when entering the creative economy. Though most students enroll in the ceramics program to develop their artistic talent, graduates are always grateful for NBCCD's focus on skill-building in production techniques, retail marketing, and entrepreneurship. Tomo explained, "I just want to make the pots. That's all I want to do. . .but if I want to keep doing this, I have to make the ends meet and they teach you how to do that."
Techniques and business strategy aside, NBCCD students also learn how to support each other in the creative community. Though ceramics seems like an individualized art form, Carla explains that there is almost always a teacher throwing in one of the studios, and students work close together: "The first year you're firing kilns together, mixing clay together, and it's more communicable in that way." Though second-year leads to more individual work, Tomo points out that "we help each other. You think it's a one-man show but we really help each other in the studio to be better. . .community spirit is something that we learn at school."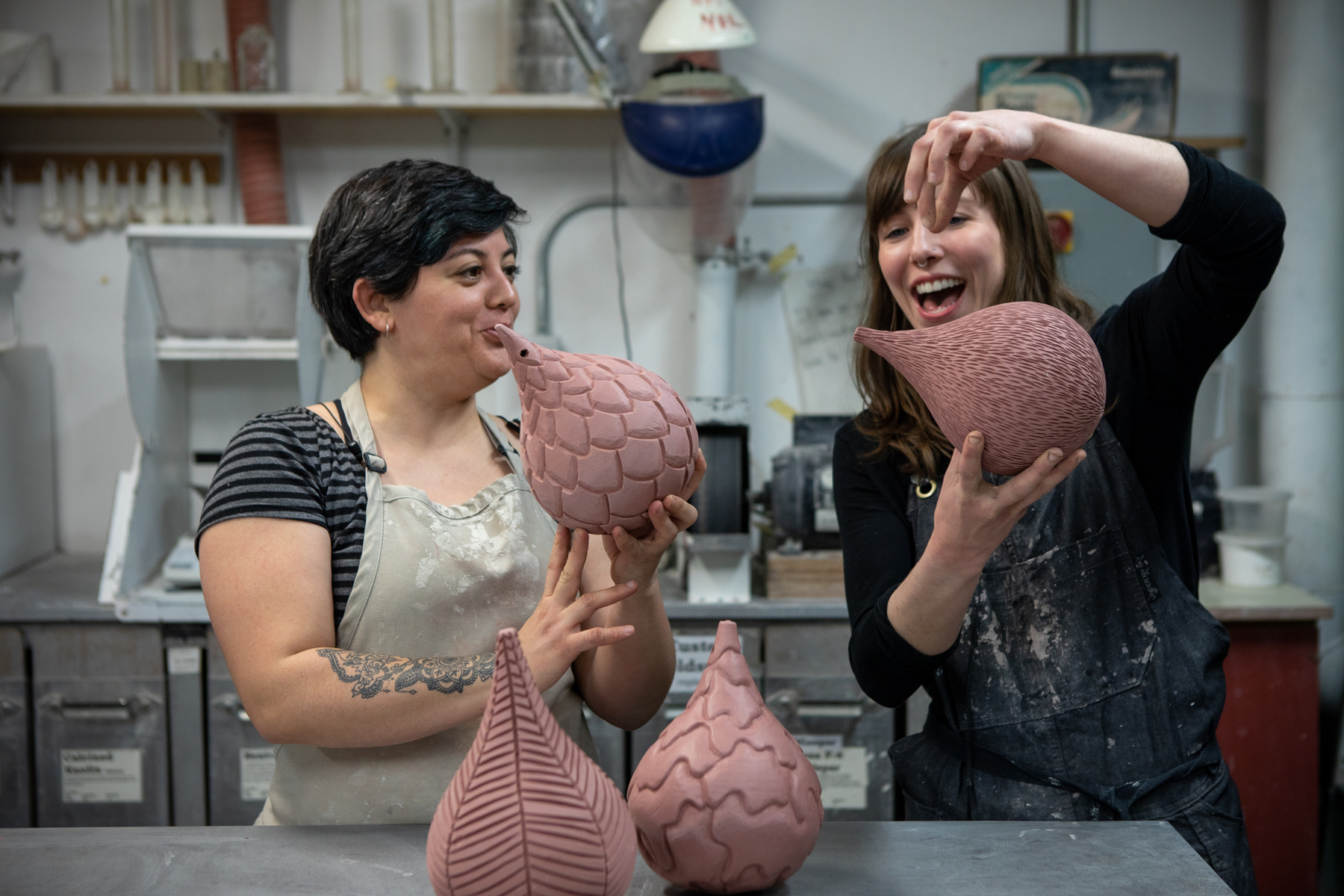 The Ceramics community is built from the relationships between students and teachers, but that connection also stretches into other studios. While applying for the Master of Fine Arts program, Tomo explained that "everybody helped me with everything." From the school writing recommendation letters, the Photography studio head helping her take pictures of her work, to the Metal Arts studio technician helping her set up her sculptures, she explains that "these kinds of things are possible because all the instructors communicate with each other and they have a good relationship with each other."
As always, at NBCCD we strive to prepare our students for success in their chosen fields. That success comes from teaching foundational skills, supporting experimentation, and being there for each other throughout the program and into the art world. Graduates from NBCCD can expect engaging instructors, classes fundamental to their future careers, and long-lasting support from the entire NBCCD community.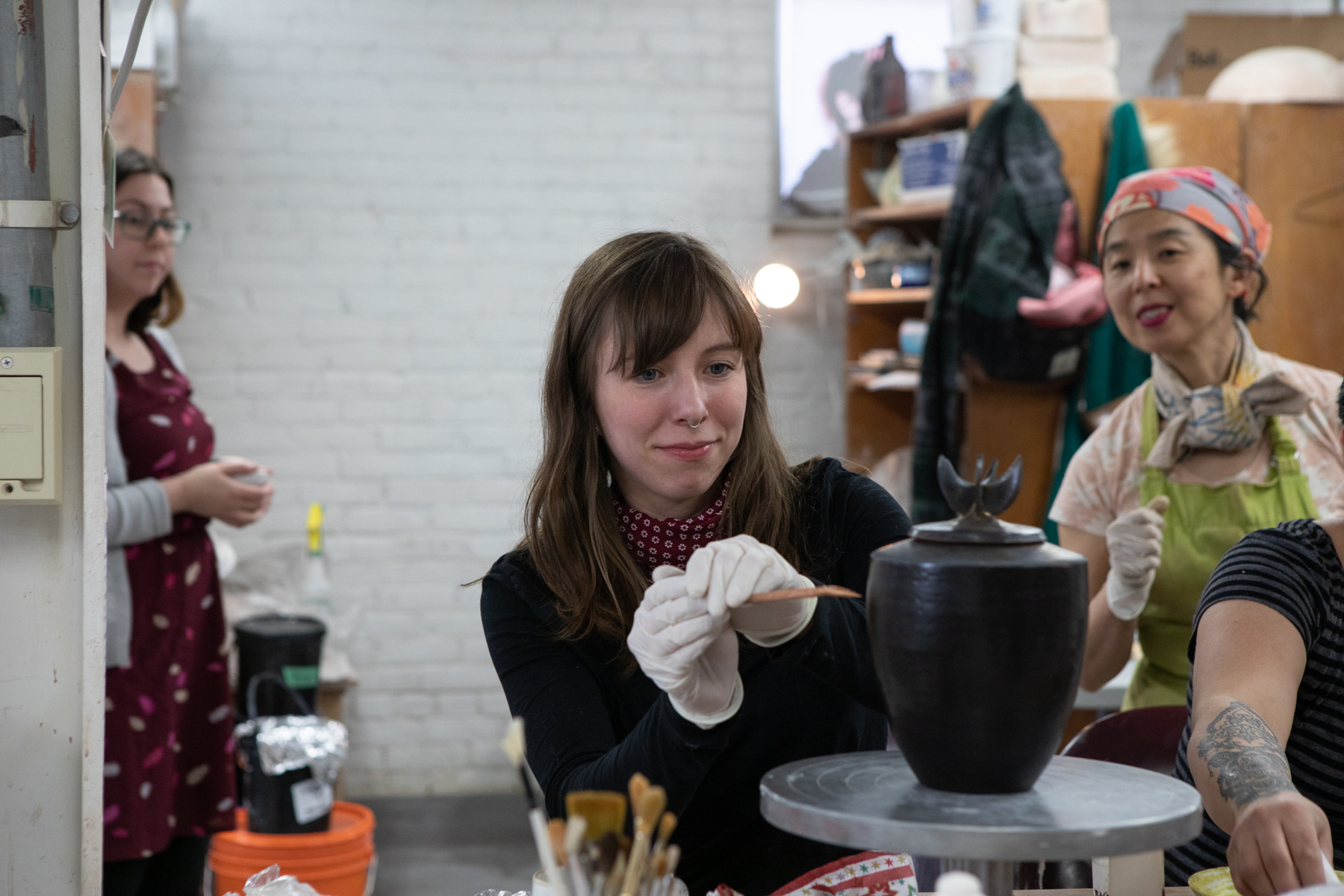 —Meaghan Laaper, Staff Writer for NBCCD
To start your journey in Ceramics, apply now for the Foundation Visual Arts program. This one-year certificate will prepare you with the skills you need to excel in any of our two-year Diplomas.