Instructor Brigitte Clavette wins 2022 Governor General's Award in Visual and Media Arts
NBCCD's jewellery/metal arts instructor Brigitte Clavette has been named one of eight recipients of the 2022 Governor General's Award in Visual and Media Arts, as the sole recipient of the Saidye Bronfman Award for excellence in fine craft.
"It's an immense privilege to be able to be recognized at the Canadian level," said Clavette, a metalsmith based in New Brunswick and renowned NBCCD instructor.
Clavette shaped NBCCD's jewellery/metal arts curriculum into the world-class program students experience today, as Studio Head from 1985 to 2017. In 2019, she was inducted as a Fellow of NBCCD, at the spring convocation ceremony—an honour bestowed upon individuals who have made a significant contribution to the development and well-being of the college and the people who work there.
She continues to teach and mentor emerging artists as a senior instructor and leader at the college. She also works on her own artistic metalsmith practice.
"I'm happy that this award is able to recognize both aspects of my passion."
Outstanding Contribution to NBCCD
Dr. Carrie Nolan, NBCCD Director, said it's moving to note this award wasn't just given for Clavette's solo work, but her dedication to developing others' skills in the craft.
"Her career is a story of someone who kept moving, creating, sparking others, opening doors and persisting to share her talents and ideas with the world."
Brigitte adds energy to any space she walks into, has an ability to connect with any person she meets, and holds sacred the responsibility of a teacher to unleash the potential of her students."
Internationally Renowned
Clavette boasts 11 solo exhibitions and been part of or initiated over 50 group exhibitions. International dignitaries in Brazil, Mali, and Burkina Faso have been gifted Clavette's work, as have notable Canadians, such as Adrienne Clarkson. The prestigious Governor General's Saidye Bronfman Award adds to more than 20 awards, grants, and residencies Clavette has received, including the elite Strathbutler Award.
Clavette's work is housed in collections across the world, including in the Royal Ontario Museum; the Victoria and Albert Museum in London, England; the Art Gallery of Guelph; and the Benton Seymour Rabinovitch Collection in Seattle, Washington. In 2000, she became a member of the Royal Canadian Academy of the Arts.
As for her creative process, Clavette finds inspiration through design, drawings, and unusual found objects.
"The objects I create are for use, whether contemplative or functional. They invite ritualistic moments."
'An Undeniably Deep Mark'
Maegen Black, the director of the Canadian Crafts Federation was one of Clavette's nominators, in addition to Ann Manuel, a Fredericton-based, award-winning visual artist. Black said Clavette is a leader who always advocates for other's success, whether that be her students or colleagues.
"Through her art and her lifelong involvement in mentorships, collectives and committee and board work, she has left an undeniably deep mark."
Clavette continues to teach silversmithing at the college, and students love her sense of humour and joy of fine craft.
"At NBCCD, we are so fortunate to have instructors that deftly weave together their professional pursuits as designers, craftspeople and artists while holding up a commitment to empowering learners to forge their own sustainable creative careers," said Nolan.
Watch Clavette's Governor General's Awards video portrait to learn more about her work and achievements.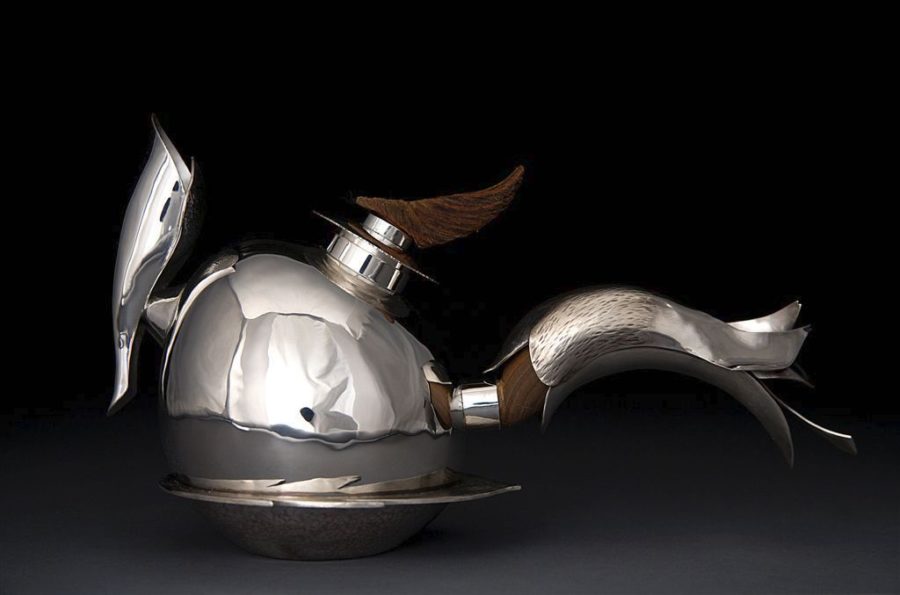 Explore the Jewellery/Metal Arts program at NBCCD!