Take a break from your final projects! Join fun activities from Monday, April 11 to Thursday, April 14 on campus and online as part of NBCCD Spirit Week!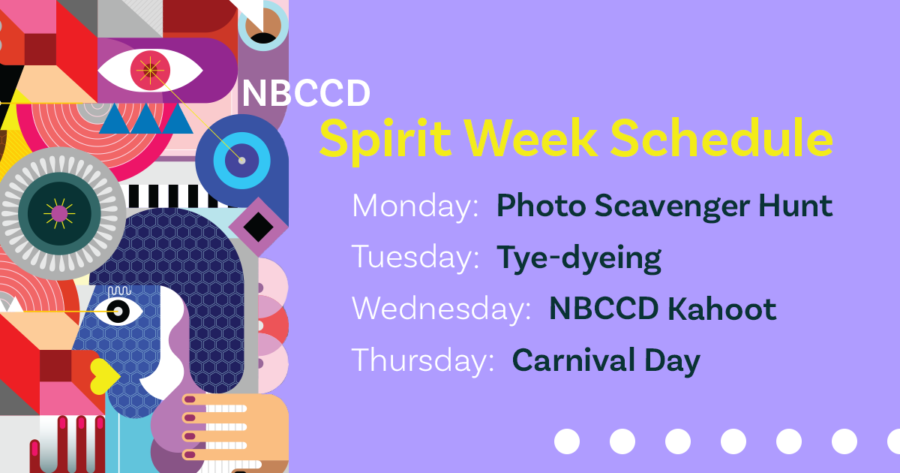 Monday: Photo Scavenger Hunt
Challenge yourself to compete in the NBCCD photo scavenger hunt challenge! Students will be provided with a task list via email the day of the event. Whoever submits the most complete list the fastest will win a prize! A filled out image list list can be sent to Breanan at breanan.foster@gnb.ca. Deadline is Monday at 3pm!
Tuesday: Tie-DyEing in the Courtyard
Join us in the courtyard from 12pm to 1pm for tie dyeing! Dyes, gloves, and elastics will be provided. Students must bring their own item to be dyed.
For safety, all dyes will be pre-mixed in the Textile Design studio prior to the event, and additional safety protocols will be followed when working with the materials.
Wednesday: NBCCD Kahoot
Test your NBCCD knowledge by playing a game of Kahoot. Beginning at 12:10pm, join us in-person at the Student Services Centre (snacks provided) or connect online. The highest scorer will win a prize!
Thursday: Carnival Day
Visit the Fredericton NBCCD courtyard from 12pm to 1pm to play fun carnival games and win prizes!