The George Fry Gallery presents

PULL BACK THE CURTAIN

— a drawing exhibition

Drawing is vital for design work. It's the early drafts of an article; the ingredients of a tasty treat. Your bowl, scarf, business card, jeans, and necklace started as a scribble. NBCCD's Drawing Studio intends to 'Pull Back the Curtain' on this process in an exhibition of the same name at the George Fry Gallery with works from all college studios, opening December 8, 2022 from 4-6pm, and running Monday-Friday, 10am – 4pm, until January 17, 2023. Masks required.

Attend the opening reception (everyone welcome)

Come and see an exhibition of fine craft with a twist. Instead of viewing a polished final product, peek behind the scenes and see the process through layers of preliminary sketches, drawings, brainstorming, and ideas presented with the finished artwork. The George Fry Gallery is a space for showcase; but equally important, a space for learning and history.
"Drawing from observation starts with re-considering our habits of perception and how we interpret the world around us," says NBCCD Drawing Studio Head and Instructor Christina Thomson. "Are you really seeing? What is your brain editing out?  Can you understand the forms around you in a deeper way?"
Every student at the New Brunswick College of Craft & Design (NBCCD) studies drawing, along with 2D and 3D design, colour study, and other foundational art and design courses. Students build on these foundational skills as they continue into a diploma program: 3D Digital Design, Ceramics, Fashion Design, Graphic Design, Jewellery/Metals Arts, Photography/Videography, Textile Design, Wabanaki Visual Arts.
It all starts with a sketch. Analog and digital drawing strategies are customized practice for each studio. Jewellery/Metal Arts students detail renderings and measurements for a client's ring; a ceramic student designs various forms of mugs and vessels before throwing the clay; textile designers create patterns through exploratory gridwork; videographers storyboard their scenes before shooting—it all comes back to foundational drawing skills and translating ideas to paper.
"We want to see with fresh eyes so that we can create imagery that is unique," says Thomson. "A lot of drawing happens in your mind before it makes it to your hand."
Admire the countless hours of effort and strategy that go into our daily items and peek inside the minds of the artists creating them from concept to creation.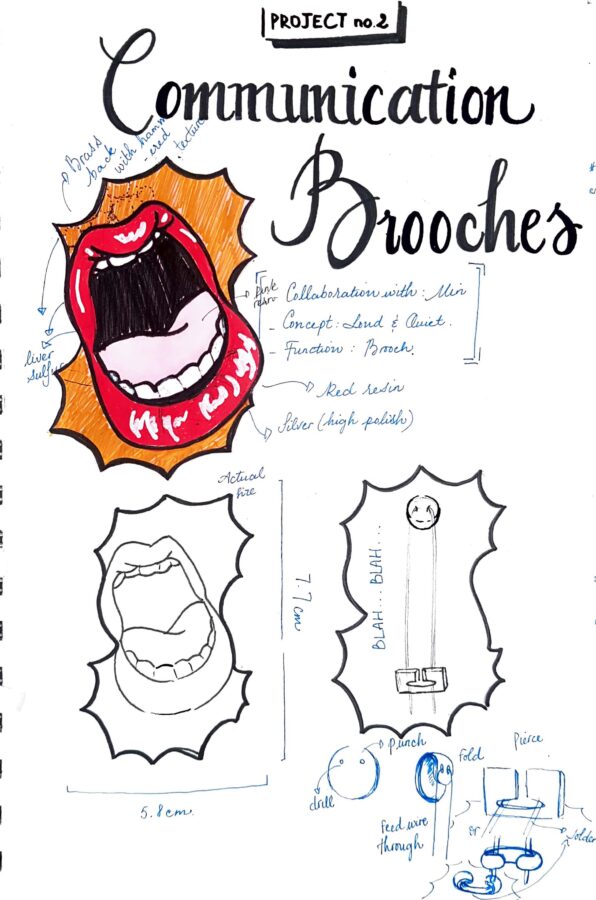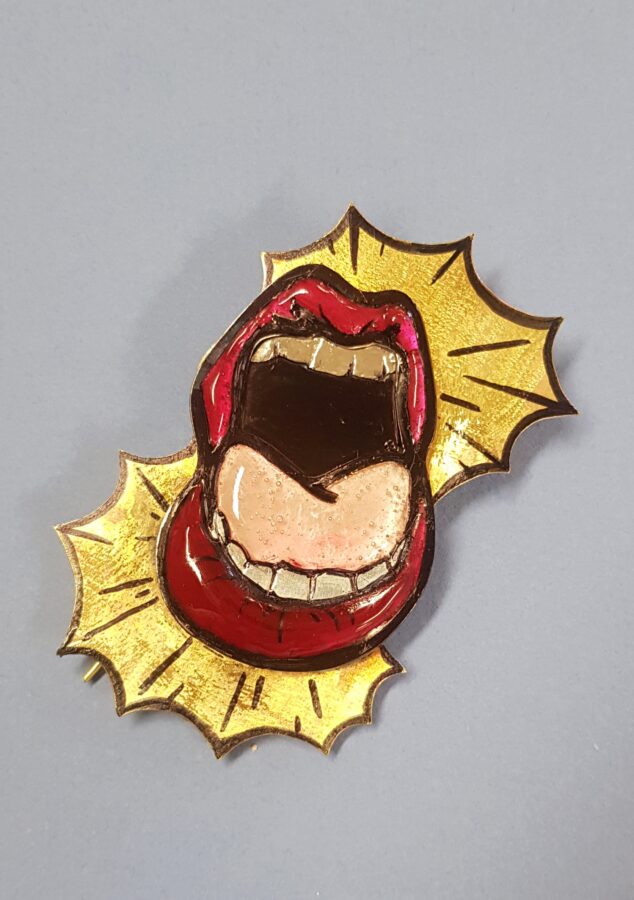 Brooch, Emily Dao, Jewellery/Metal Arts.