NBCCD instructor Janice Wright-Cheney is one of seven runners-up selected to receive a prize highlighting Canadian artists who communicate the significance of nature through their art.
Wright-Cheney said she was honoured to be chosen by the jurors, many of whom she admires, and she was grateful to be part of a talented group of artists selected for a theme that resonates with her: the environment and our place in it.
"Artists play a role in being able to share an emotional message that's meaningful and immediate. Art has potential to reach people in a powerful way," she said.
"It's artists' responsibility to deal with things that are happening in their times."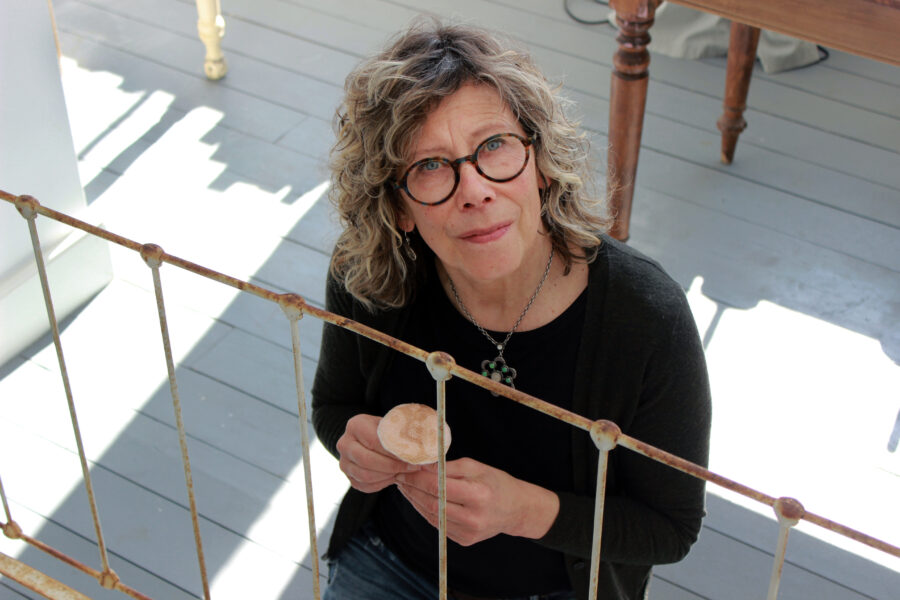 The Rewilding Arts Prize celebrates artists who are using artistic means to creatively visualize and bring attention to issues of rewilding in our lives and communities. This is the inaugural year of the prize.
"Given the climate and biodiversity crises, we need the ingenuity and creativity of artists more than ever to help meet the profound challenges we face," states the David Suzuki Foundation website.
Out of more than 550 Canadian artists and groups who applied, six winners were chosen and seven runners up. The winners are awarded $2000 each and the runners up $500 each. The prize was presented by the David Suzuki Foundation and Rewilding Magazine and the winners were selected by a jury of artists.
Wright-Cheney's work, Elysium, was chosen as a runner-up. The piece is composed of felted mushrooms sprouting from a rusty bed frame, while mycelium, made of crocheted wool, spreads beneath.
"Mycelia are the delicate filaments that connect and nourish all forest life," states Wright-Cheney's website.
Jared Peters, NBCCD academic dean, said Foundation Visual Arts instructor Wright-Cheney is an inspiration to colleagues and students at NBCCD.
"We already knew she was one of the top contemporary artists working in Canada today, and it's so nice to have that fact validated."
"As an equally gifted and dedicated instructor, she works so hard to support her students and share her insights, skills, and outlook to a new generation of creative practitioners."
Much of Wright-Cheney's work reflects her contemplation of the natural world and our place in it. She specifically focuses on the tension between those two things and the endangered or unwanted, from multimedia exhibitions of sardine fisheries to rose-covered bears.
She has been elected to the Royal Canadian Academy of Arts, and is a recipient of the Strathbutler Award for Excellence in the Arts as well as the New Brunswick Lieutenant Governor's Award for High Achievement in Visual Arts.
Peters said this award was perfect for Wright-Cheney.
"Janice is deeply concerned with the environmental issues that are confronting us in the twenty-first century. This practice enriches our students' learning experience, as we equip them with the skills and ideas they need to thrive in a hopeful and flourishing future."
For the full list of winners and more information on the Rewilding Arts Prize, click here.