Presenting STERLING — the 15th annual jewellery/metal arts exhibition at Government House
MAY 13—June 1, 2022
Public opening: May 13 from 10am-4pm. 
Invite-only opening: May 12, 5-7pm 
Masks required for entrance into Government House, 51 Woodstock Road, Fredericton, NB.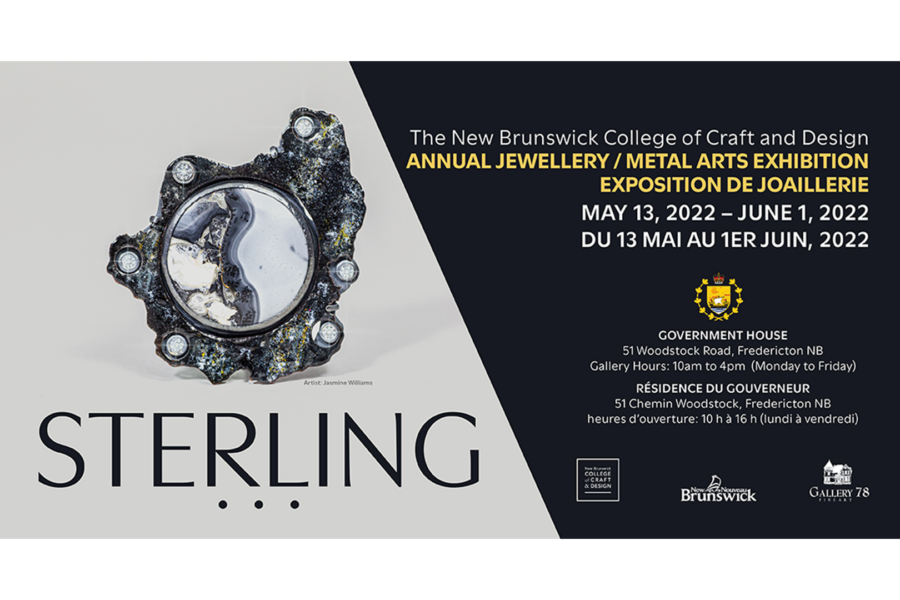 NBCCD announces the 15th annual jewellery/metal arts exhibition, STERLING, generously sponsored by Gallery 78 and hosted at Government House. This year's exhibition opens to the public at the official residence of New Brunswick's Lieutenant Governor on May 13, 2022 and runs until June 1, 2022, Monday to Friday, 10am to 4pm.
"We'd like to welcome you back to Government House and our annual exhibition. It's always a surprise," said recent Governor General's Award winner and longtime NBCCD instructor Brigitte Clavette. "People come and they love it!"
Students from all levels of NBCCD's jewellery/metal arts program will showcase selected best works from basic production work, silversmithing, collection pieces, sculpture, and fine one-of-a-kind pieces. Select works will be available for sale starting May 13 at gallery78.com/collections/sterling. The exhibition will also feature in-progress pieces as an opportunity to educate the public about the creative process and care that goes into the fine craft of metal arts.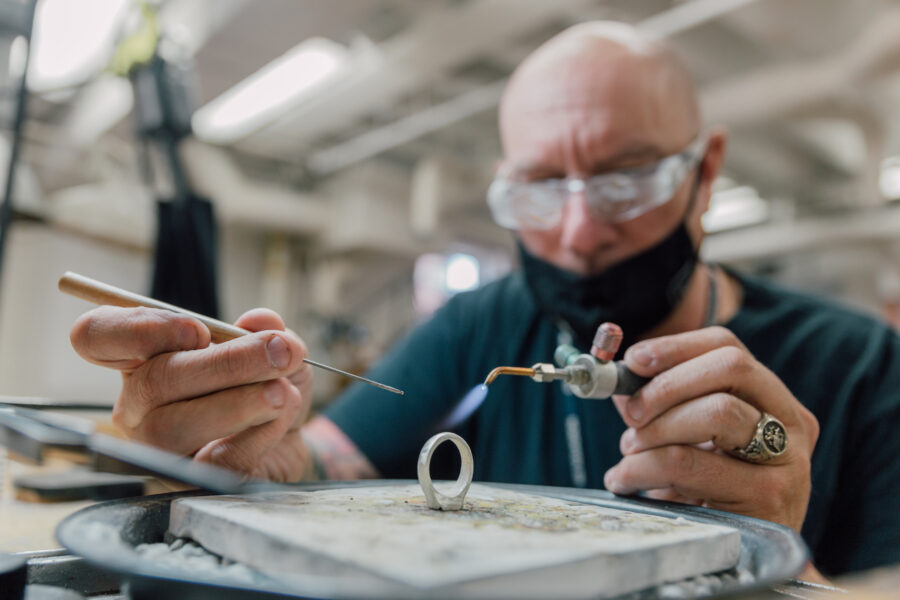 The exhibition doubles as a competition with one student winning a solo exhibition show at Gallery 78 and four students winning cash prizes.
2022 Award Recipients
Allana Gerrie
David & Nancy Holt Award for Best in Show, $500 cash prize (co-donated by an anonymous visual artist in Nova Scotia and Gallery 78)
Kaitlyn Derrah
Best Collection, $300 cash prize and a future solo exhibition at Gallery 78*
Tyson Minard
Elegance Award, $200 cash prize*
Ann Fillmore
Innovation Award, $100 cash prize*
*Sponsored by Gallery 78
Studio Head Kristyn Cooper said this year's diploma graduates have been a dream to work with. "This is one of the hardest working groups of students we've ever seen. They're not only talented in their craft but have become a family. They have a very strong sense of support, friendly competition, and work ethic."
Clavette agreed, "This group is going to be hard to say goodbye to. They took in everything we brought to them and embraced every challenge. It was hard work."
Cooper and Clavette look forward to celebrating the success and determination of all jewellery/metal arts students who navigated their studies throughout a pandemic in the mentally- and physically-demanding metal arts program.
To view NBCCD's upcoming exhibition schedule, click here.
Selected Works & Event Photos