Recent jewellery/metal arts graduate Kaitlyn Derrah has won first place at a national jewellery competition, earning her a place in a solo exhibit in the nation's capital and a $500 cash prize.
The 2022 graduate of the Jewellery/Metal Arts diploma program said she was "shocked, pleasantly surprised, and immensely honoured" by the decision. Derrah also graduated from NBCCD's and the University of New Brunswick's Bachelor of Applied Arts program in 2021 and won Best Collection at the 15th annual Sterling exhibition in May.
"It is an amazing honour to be selected as one of the six finalists and an amazing achievement to be selected as one of the laureates. It helps to get my foot in the door as a gallery artist and it gives me the opportunity for exposure and collaboration with galleries and other artists."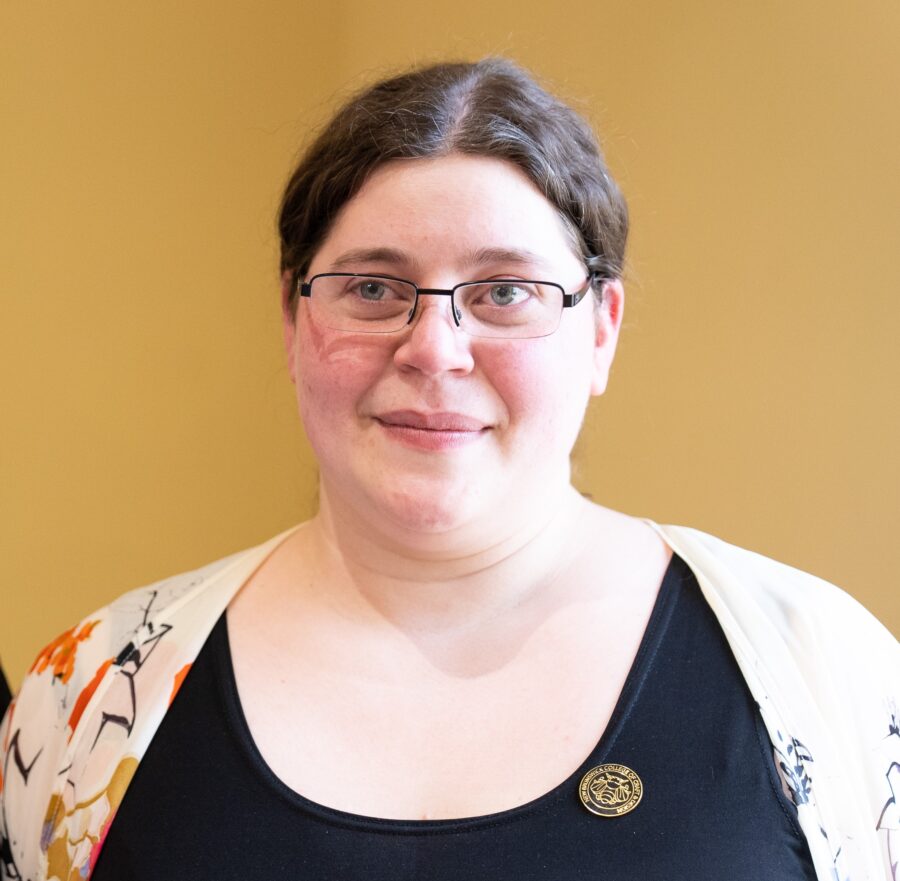 The joy of making
The L.A. Pai Gallery in Ottawa, Ontario hosts and organizes the Annual National Jewellery Student Competition. This year, there were six finalists from five post-secondary schools across the country. This year, two people won the competition, Derrah and Loufan Zhuang from OCAD University.
A three-member jury reviewed the finalists' work this year, consisting of Nancy Baele, Author and Critic; Joe A. Friday, Collector and Community Arts Supporter; and Anna Williams, Artist, and Assistant Dominion Sculptor of Canada.
"Selection for the competition is based on technical excellence, ingenuity, and strength of creative vision. One of a kind, production prototypes, jewellery and objects are considered equally," states the L.A. Pai Gallery website.
"These student jewellers demonstrate a variety of techniques and materials, drawing from diverse sources of inspiration: street art, the food we consume, aliens, physics, visions of landscapes and ecosystems, memories of childhood games. The one thing that binds them together is an evident joy of making."
A focus on harmony and balance
Derrah submitted three pieces to the competition. Each mixed medium sculpture focuses on balance, representing the different stages of Derrah's life from carpenter to artisan. Eventually, Tensegrity shows an achieved harmony between the two professions.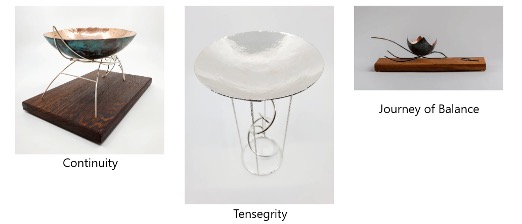 "I enjoy working with the materials and experimenting with them. I never quite know what the outcome will be, but I enjoy the process of combining multiple components to make a piece, whether it be jewelry or sculpture," said Derrah.
Education added 'a new arsenal' to skillset
Academic Dean Jared Peters said Derrah has impressed the whole college community with her hard work and dedication.
"It's just so wonderful to see that tremendous effort and energy recognized."
"It's also a tribute to the terrific faculty and staff in NBCCD's Jewellery/Metal Arts program," said Peters. "Their professionalism, commitment, and support allow students like Kaitlyn to realize their own creative and professional potential."
Derrah said her instructors at NBCCD have been an "amazing help and inspiration" as she learned to work with metal.
"NBCCD has added a new arsenal to my skillset and expanded my horizons and helped me grow as an artist."
Derrah is currently working at the Joy of Framing in Fredericton and working on obtaining a studio to continue creating within the metal arts field. Derrah's two solo exhibitions are in the near future: one at Gallery 78 in Fredericton, New Brunswick, and the other at L.A. Pai Gallery in Ottawa, Ontario.
"It's a great learning experience starting out as an emerging artist," said Derrah.